Shailendra Singh Solanki, Vice Preseident - Infrastructure at Ecofirst Services LTd. (A TATA Enterprise and 100% subsidiary of TATA Consulting Engineers)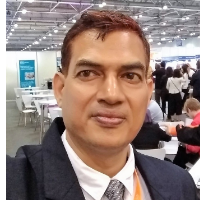 A successful and aggressive leader with more than 23 years of experience of which 15 years were with Leading Consulting Companies in Urban Water Sector. Have extensive portfolio of consulting services in water and infrastructure sector while prioritizing the client and sustainable design objectives. In addition, have a passion for leading teams to surpass strategic goals while investing in their personal and professional growth.
As a scholar achieved PhD in faculty of science (Resource Assessment for Sustainable Development Planning in Rajasthan State – A Study based on GIS) after completing master's degree in water resources engineering and bachelor's degree in Civil Engineering . Completed PG diploma in Marketing Management during the academic period. Gained professional skill set in working with GIS software (Arc-Info and MapInfo) while working on the live projects and got Certified training on "Geographical Information System (GIS) on ARC-INFO software".
Have comprehensive experience of more than 23 years in Water sector with last 10 years in urban sector across the varied climatic location in country. Initial 13 years were mostly in city scale, district and state levels with prime focus in both rural and urban sectors. This experience has widely covered all aspects of planning, designing, monitoring and reviews of tasks, interventions under various projects, programs funded by government, international donor agencies, INGOs and NGOs. The aim of such projects was primarily focused on increased water availability and security by constructing structures, renovating and upgrading water source, supply and sanitation systems along with solid waste management. Some of the projects were aligned with theme "Food for Work" for poor and rural population in Drought affected regions in the Rajasthan state of India. One of the field study and research involved preparation of a comprehensive report on "Best Rainwater Harvesting Practices in Rajasthan State of India".
In the initial stages of the professional carrier also achieved a teaching experience as Guest Faculty in Water Resource subject during the master's degree in an Engineering College for one full academic year.
Fully acquainted and upgraded with the latest developments in the water sector, government policies, disruptive technologies and integrated innovative (GIS and space technology) and sustainable solutions in water and waste water management fields in all the projects.
Currently Managing Infrastructure & Master planning Portfolio (includes Water, Waste Water, Storm Water, flood, Rainwater Harvesting, Irrigation, Electrical and Energy, Master planning and Landscape design) as Vice President Infrastructure since last 7 years. In the last 5 year the team has grown from 5 persons to now 25-member team with project order value increased from 5 million INR to 50 Million INR.
The key responsibilities as Head of Infrastructure vertical is to: 1) grow the vertical by getting more and good size projects for the team and company (business development); 2) effective and satisfactory level engagement with client (client management); 3) monitoring to ensure good quality and timely deliveries of the deliverables (Quality management); 4) new recruitments, skill set development, review and team motivation (Team Management); 5) familiarizing team with new software, disruptive technologies and innovations around the world and its incorporation in infra solutions (Digital up gradation).
As Senior subject resource, leading highly qualified and dedicated and motivated infrastructure and master planning design team consisting hydrology and hydraulic, electrical and mechanical engineers, architects, urban planner and landscape architects to prepare Detailed Project Reports for various smart City projects having tasks of river front development involving river sectioning, flood proofing, dry weather flow interception, diversion, treatment and reuse, beautification & landscaping along with land monetization. Also lead all technical presentations and discussions for approval of DPRs from the Government and its counterpart departments/ agencies.
To best possible extent, utilized space data and GIS based analysis tools in topographical, Hydrological and Hydro-geological analysis of the project site and its surrounding areas to ascertain available water resource potential to help in planning and designing sustainable water resource management solutions for the proposed development. Most of the project solutions designed in leading water industry software like EPANET, SWMM, Storm CAD, Water Gems, SEWER CAD, HEC-RAS, Civil 3D with input received from GIS Software like MapInfo and Arc Info.
Although have extensive and exhaustive experience in working varied climatic conditions and geographical locations across India, looking for equal opportunities to work globally to achieve international exposure & experience and share the experience and expertise in water resources, GIS and infrastructure sector with leading MNCs and organizations globally.