Agrinoze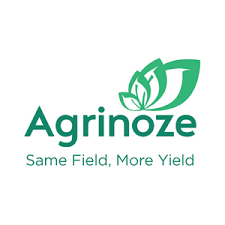 Agrinoze's groundbreaking irrigation method was developed by Eitan Israeli, co-founder, and Chief Agronomist.
The method was tested by over 150 farmers globally and consistently generated increment yield, leveraging data for better, more precise, and efficient agriculture.
A better way to irrigate: Agrinoze
With agricultural production expected to expand by 70 percent in the next thirty years and water resources dwindling, according to the World Bank, making sure plants get just the right amount of water needed has become a mission for the global agri-tech sector.
Using a crop itself as an indicator of how much water the plant really needs, Israeli firm Agrinoze has found its way around the overuse of water and fertilizers through precision irrigation. "We have a system based on sensors and an algorithm that automatically and autonomously irrigates the crop 24/7 and the trigger for the irrigation is the crop itself. You can think of us as a self-driving car," says Erez Fait, the company's co-founder, and president. Shortly before his return to Israel after a month-long tour abroad, he spoke to NoCamels over Zoom from a hotel room on a chilly morning in Washington DC.
Agrinoze precision irrigation solution. Courtesy
One result of this precision irrigation is a higher crop yield with lower water consumption. "Saving water is the outcome of this precision agriculture. Our solution is that by [aiming to] grow more we save water. We currently have projects in Morocco, in Nevada, in Arizona where the target is saving water. Because we are saving [water up to] 40 or 50 percent [you can say] we are a water-saving solution," says Fait.
Founded in 2018, Agrinoze has developed precision technology that also limits the overuse of underground water-polluting fertilizers through water recycling. "The other advantage of Agrinoze is the ability to use wastewater or [fertilizer] treated water much better because we can take into consideration the existing nutrients. Think that now instead of having a lack of water we can take this wastewater, which in other cases goes into the river or the sea, and use it for agriculture," he says.
"We have a banana plantation next to Haifa [city in North-western Israel], where we are irrigating with recycled water. And for the last four years [we used] zero fertilizer. Zero means zero. And usually bananas need a lot of potassium and other [minerals]. And the yields are the same, sometimes more," says Fait.
Agrinoze was recently honored as one of ten startups featured in the World Agri-Tech Innovation Summit's TechHub in San Francisco, California.