ARO, agriculture research organization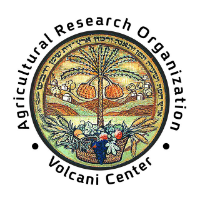 About ARO

Located at the Volcani Center campus in Bet-Dagan, near Tel-Aviv, ARO's six institutes are responsible for Plant Sciences, Animal Science, Plant Protection, Soil, Water and Environmental Sciences, Agricultural Engineering, and Postharvest and Food Sciences. ARO also operates four research stations, in various parts of the country, and serves as a testing center for agricultural produce and equipment. Israel's Gene Bank for Agricultural Crops is also located on the ARO Volcani Center campus.
While encompassing the full range of agricultural research activities, ARO focuses in particular on arid zone agriculture, enabling Israel - a country short of all the resources required for agriculture - to achieve among the highest levels of agricultural output in the world.
Among ARO's areas of special expertise are:
agriculture under arid conditions
agriculture on marginal soils
irrigation using effluent and saline water
crop cultivation in protected environments
freshwater fish farming under conditions of water shortage
minimization of production losses through the use of latest pest control and post-harvest storage methods
breeding and development of new strains of crops and domestic animals better suited to the adverse conditions which already exist in many parts of the world, and which are likely to become even more prevalent in the future
ARO and Europe

Close and long-standing relations also hold between ARO researchers and their counterparts in Europe. The setting up of bi-national funds with the United Kingdom, France, Germany, Holland and Italy has done much to reinforce these links.
The European connection has also expanded since the opening out of Eastern Europe in the early 1990's, with ARO personnel actively assisting their colleagues in these countries to restructure their R&D effort and to introduce modern agricultural production methods.
ARO and Technical Assistance

ARO has been active both in providing direct technical assistance to developing countries, and in providing such assistance in cooperation with various national, regional, international and non-governmental agencies. In this context, Israeli know-how - especially in the area of arid zone agriculture - has been exploited for the benefit of farming communities worldwide.
ARO and International Relations

As an agricultural research center of international standing, ARO each year attracts a large number of groups from abroad, as well as numerous individual visitors. These include academics, heads of experimental stations, representatives of private companies and public officials.
ARO maintains particularly close relations with the various international, regional and national institutes involved in the promotion of good agricultural practice and in the increase of agricultural output, and in particular with the U.N. Food and Agriculture Organization (FAO).