Bio-Organic Catalyst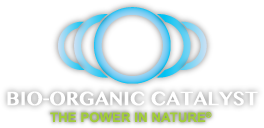 About Bio-Organic Catalyst
Bio-Organic Catalyst produces a line of proprietary product compositions, based upon its unique patented broad spectrum catalytic biochemistry, that establishes an entirely new platform technology for the chemical industry. The Bio-Organic Seal of SafetyTM is our commitment to offering the highest bio-aquatic safety on the market today. Learn more about bio-aquatic toxicity and safety studies.
All Bio-Organic Catalyst products are produced in the United State and must meet the highest standards of quality. Our products are not only completely safe and non-toxic, but offer a new model for green chemistry that improves the ecological health of ecosystems.
Download the BOC linecard
for product and application information.
Download the BOC catalog,
information on Bio-Organic Catalyst.