City of Cedar Rapids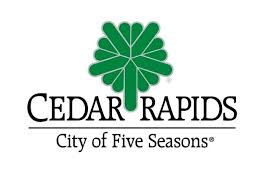 Cedar Rapids is the second-largest city in Iowa and is the county seat of Linn County. The city lies on both banks of the Cedar River, 20 miles (32 km) north of Iowa City and 100 miles (160 km) northeast of Des Moines, the state's capital and largest city.
As of the 2010 United States Census, the city population was 126,326.[6][7] The estimated population of the three-county Metropolitan Statistical Area, which includes the nearby cities of Marion and Hiawatha, was 255,452 in 2008.[8] Cedar Rapids is an economic hub of the state, located at the core of the Interstate 380 corridor.
The Cedar Rapids Metropolitan Statistical Area (MSA) is also a part of a Combined Statistical Area (CSA) with the Iowa City MSA. This CSA plus two additional counties are known as the Iowa City-Cedar Rapids (ICR) Corridor and collectively have a population of nearly 500,000.
A flourishing center for arts and culture in Eastern Iowa, the city is home to the Cedar Rapids Museum of Art, the National Czech & Slovak Museum & Library, the Paramount Theatre, Orchestra Iowa, Theatre Cedar Rapids, the African American Museum of Iowa, and the Iowa Cultural Corridor Alliance. In the 1990s and 2000s, several Cedar Rapidians became well-known actors, including Ashton Kutcher, Elijah Wood, Terry Farrell, and Ron Livingston. The city is the setting for the musical The Pajama Game and the comedy film Cedar Rapids .
Cedar Rapids is nicknamed the "City of Five Seasons", for the so-called "fifth season," which is time to enjoy the other four.[1] The symbol of the five seasons is the Tree of Five Seasons sculpture in downtown along the north river bank. The name "Five Seasons" and representations of the sculpture appear throughout the city in many forms.[1]