Filpumps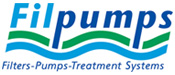 Filpumps was established in 1992 to fulfill a number of external factors. Namely to meet the market demand for a new type of pioneering pump for private water supplies, the requirement to treat drinking water to the new standards under EC Regulations and to also meet the environmental pressures for novel forms of industrial effluent and sewage treatment to satisfy legislation.
Filpumps pioneered the development of the groundbreaking new technologies required to solve these issues. These developments are now well established and accepted throughout Scotland.
By December 1998 the company's success with liquid handling systems resulted in Filpumps incorporation of Balgownie Dairy Equipment Ltd to expand their portfolio. This enabled Filpumps to better support a farm dairy market expanding in geographical area and requiring products with greater sophistication than previously required.
In 2001 Filpumps realised the growing demand for ancillary equipment required to support our more established products. Additional premises were acquired in Blackburn, Aberdeen to facilitate the demand for these products including pipes, valves, hoses and fittings.
Continued growth over the next 5 years resulted in Filpumps erecting a custom built site on 1.8 acres of land to incorporate all the staff and products which were previously situated at the 2 separate locations (Oldmeldrum and Blackburn).
Filpumps' main aim has always been to undertake and deliver quality engineered solutions to meet the customers' requirements. We seek to achieve this by delivering the complete package – a fully functioning system consisting of pumps and filters fulfilling the customer's expectations and needs.
In 2011 a friendly management buy out (MBO) took place, led by General Manager, Ian Grierson, the three-man MBO enabled the founders of the business to retire. Martin Booth and Russell Mann made up the MBO team, both of whom work for the Company and together make up over 30 years combined sales experience.
Filpumps will continue to expand into new markets by providing innovative solutions to satisfy the demands of our growing client base and by continuing to supply a first class support to customers with our highly skilled and trained service department and engineers.
Filpumps is highly responsive to the demands of the markets in which we operate this has led to our growing reputation as an innovative company which develops novel solutions for specific customer requirements
Led by the needs of our customers we strive to always provide quality products and solutions to precisely meet their requirements with efficient service and always at the best possible price.

Our reputation is important to us, which is why we place our customers and their needs at the forefront of our business, to ensure trusted and reliable products and services.
Our principle aim is to deliver an efficient service to our customers and to encourage our staff to maintain a courteous manner. We strive to source up-to-the-minute and energy efficient technology to industries from dairy farming to the oil and gas market.