Aspiral™ Smart Packaged Wastewater Solutions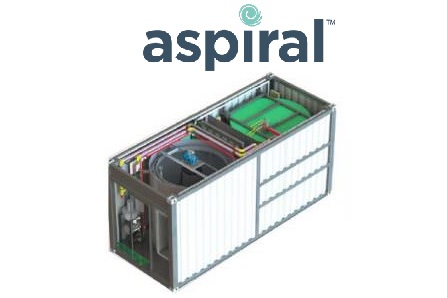 Aspiral is a smart wastewater treatment solution that packages our innovative MABR technology in standard shipping containers.
This modular solution reduces energy usage for aeration by up to 90% compared to conventional methods.

Aspiral is an ideal solution for small- to medium-sized plants serving small towns, villages, residential communities, resorts, hotels, commercial complexes, and more. Aspiral's efficiency makes it ideal for decentralized treatment off the grid since its low energy needs can be supplied by alternative sources.
The Aspiral Family offers several model sizes and configurations, with treatment capacities starting at 20 m3/d, depending on effluent requirements and design temperature. Several containers may be connected in parallel to handle large quantities of effluent. For operating ease, the systems can be remotely monitored and controlled.
All process units — for example, the mechanical screen and secondary clarifier — are customized for each installation, and the plumbing between the main process units is installed onsite.
Pretreatment mainly includes fine (1 mm) screening, which is followed by oil and grit removal. MABR treatment removes 80-90% of biological phosphorous, and chemicals are used only when additional removal is required.
Tertiary treatment such as filtration and disinfection are compatible with the process and can be provided separately.
Aspiral containerized wastewater treatment solutions come in several configurations to treat from 20 to 350 m3/d (13,000-90,000 GPD) of municipal wastewater.