H2O Radio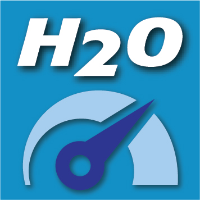 H2O Radio: Journalism About Water

Award-Winning Reporting about the World's Most Vital Resource

What do you picture when you hear the word water ? A cool, refreshing drink? A dip in a mountain lake? The beach? Perhaps you recall your morning shower, or watering your garden.

You probably didn't picture power plants or your laptop, but water is ubiquitous in our lives—although it's not always apparent how. Water sustains us. It powers our cities, grows our crops, and helps fabricate our products, yet not everyone knows where their water comes from or the increasing demands being placed upon this essential resource.


Water is life. It covers nearly three-quarters of our planet, yet fresh drinking water is under threat from climate change, contamination, and ecosystem destruction. At H2O Radio we won't hesitate to tackle tough topics and challenge common assumptions in order to educate and inspire stewardship of this fundamental molecule upon which all life depends.

Signal, Not Noise

Now more than ever we're committed to delivering high-quality journalism in the public interest, stories other outlets can't—or won't—tell. H2O Radio is a member of the Institute for Nonprofit News and subscribes to their standards of editorial independence.


Our organization retains full authority over editorial content to protect the best journalistic and business interests of our organization. We maintain a firewall between news coverage decisions and sources of all revenue. Acceptance of financial support does not constitute implied or actual endorsement of donors or their products, services, or opinions.

We accept gifts, grants, and sponsorships from individuals and organizations for the general support of our activities, but our news judgments are made independently and not on the basis of donor support.

Our organization may consider donations to support the coverage of particular topics, but our organization maintains editorial control of the coverage. We will cede no right of review or influence of editorial content, nor of unauthorized distribution of editorial content.

Our organization will make public all donors who give a total of $5,000 or more per year. We will accept anonymous donations for general support only if it is clear that sufficient safeguards have been put into place that the expenditure of that donation is made independently by our organization and in compliance with INN's Membership Standards. Our full statement on editorial independence, donor transparency, privacy, advertising, and conflicts of interest is available here.