Maaden Phosphate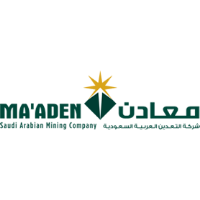 Ma'aden was formed by Royal decree in 1997 to facilitate the development of Saudi Arabia's mineral resources and was originally wholly owned by the Saudi Government before 50% of its shares were floated on the Saudi Stock Exchange (Tadawul) in 2008.
Ma'aden's Gold and Base Metals SBU manages the production and sale of gold, copper, silver and zinc, with gold accounting for the biggest share segment. Gold enjoys a special status in the Ma'aden business mix. It is the most well-known of our product lines, with a history reaching back to the beginnings of recorded time: Our Mahad Ad Dhahab ('cradle of gold') mine was actively mined as early as 3000 years ago. Gold was the first commodity mined by Ma'aden and provided the foundation of our subsequent growth and diversification.
Ma'aden Gold and Base Metals Company (MGBM), our wholly owned subsidiary, is the backbone of our gold business, producing over 330,000 ounces of the precious metal in 2017. Gold accounts for the majority of MGBM's revenue, with copper, silver and zinc accounting for the remainder. Ma'aden's 2025 strategy aims to increase the company's gold production to 1 million ounces per year.
Gold deposits are located throughout the Central Arabian Gold Region (CAGR), a geological area extending from the Red Sea coast to the middle of the country. Development of the CAGR has been challenging due to its remote location and limited water availability.
Ma'aden has opened up new mines by developing a 450 km pipeline to bring treated wastewater from the municipality of Taif to the site of the planned gold mines. This environmentally sustainable solution is the first instance of the large-scale use of treated waste water for industrial purposes in the Kingdom.
MGBM operates six gold mines (Ad Duwayhi, Mahd Ad Dhahab, Al Amar, Bulghah, Sukhaybarat and As Suq) and one copper mine (Jabal Sayid).