Pars Ab Tadbir Engineering Consultants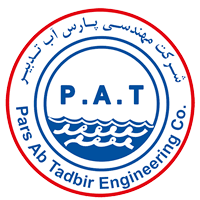 Pars AB Tadbir Consultant Engineering Company (PAT) commenced its activities for providing specialized consulting services in the field of water industry and environment in the year 2001. Meanwhile with proper management and planning as well as hard works of its managers and experts during the past years, it has been able to be qualified as a first-tier consultant in the field of water and wastewater network and treatment plants, and has obtained ISO9001, ISO10002, ISO10004, and ISO10006 certificates, and also has been registered as a consultant with the Islamic Development Bank (IDB).
PAT has also expanded its activities in other specialized fields from offshore seawater intake facilities and desalination plants, Environmental Impact Assessment (EIA) and Social Impact Assessment (SIA), retrofitting, structure, project management, surveying, GIS, as well as irrigation and drainage network, etc.