SETA Sociedad Española de Tratamiento de Agua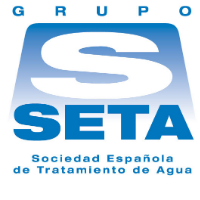 SETA (Sociedad Española de Tratamiento de Agua)
The Company with over 50 years of experience, is one of the leaders in the sector of water treatment in Spain and also enjoys an important reputation internationally for the quality and wide range of its products.
SETA diversifies its production and performs a vertical integration of the whole chain of production to the "turnkey" delivery of the final product.
The purpose of SETA is to provide a comprehensive water treatment, discharges and other fluids, through the activities of:
- Preparation, drafting and development of projects of sanitary engineering, purification of water for consumption, supply of water to towns and industries and effluent treatments of waters in general, urban and industrial.
- Designing and manufacturing of equipment and plants for the treatment of water and waste.
- Stations of drinking water supply (ETAP), for populations of towns and industries with large consumption requirements.
- Stations depuration of residual waters (EDAR), for discharges of urban areas and industries with large capacities of pollutant discharges.
- Recycling and effluent treatment, for all sectors of the industry in general.
- Provision of auxiliary equipment, components and spare parts
The range of products is very broad, ranging from mobile purification equipment aimed at the needs of treatments of water in humanitarian missions or in the case of disasters natural, to large works such as the construction of treatment stations of drinking water (ETAP) and desalination plants to large national and international populations. At international level, it is present mainly in those countries with large needs of water and other fluids treatment infrastructure improvements.