How to maintain ​water level of ​the pond?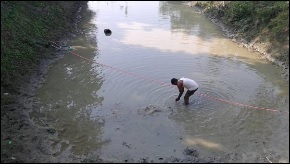 Introduction to the project: Alternative Livelihood option 'Pisciculture' for fishermen community in dolphin village:
CEE North under NMCG supported project is working with riverside villages in Bahraich district along Ghaghra tributary of Ganga. The communities in the project village are less educated, economically deprived, socially excluded and marginalised, and they are vulnerable to floods and have fewer livelihood opportunities. Generally, they do fishing activity in the river for the purpose of their livelihoods. In recent past, there has been tremendous pressure on fish resources of the river due to the tendency of taking small fishes as well. This practice is affecting the survival of dolphin and other species as small fishes are food for them.
Question: As part of the poject, CEE has identified a community pond to introduce pisciculture. This pond is spread into 2 bighs (1/2 acre) land area and aroud 1 km away from the river bank. Fish seedlings have been introduced. Maintaining water level of the pond is emerging as the problem in the intervention. The pond is connected to aquifer which is linked with river water level. The level goes down with the river water level. If the pond is refilled by using pumping option the water does not remain in the pond because of its connectivity to the aquifer. We are looking for the solution to this problem as well as also other options for reducing fishing pressure from the river.