The Mighty Yellowstone: A Magnificent And Beleaguered River?Think back 25 years, though it seems like it was just yesterday. We had a new baby a...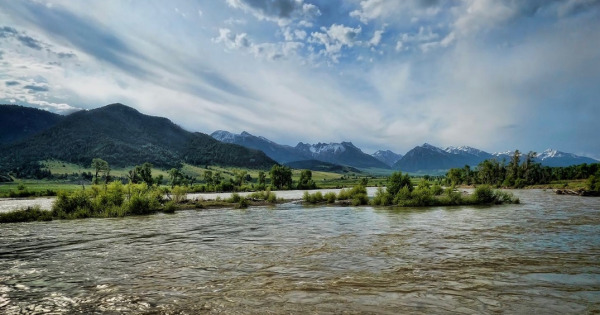 The Mighty Yellowstone: A Magnificent And Beleaguered River?
Think back 25 years, though it seems like it was just yesterday. We had a new baby at our home on South Yellowstone Street in Livingston, Montana near Sacajawea Park which fronts the legendary Yellowstone River that is itself a signature natural wonder of our town.

As you know, new babies make their presence known, regardless of the time of day, or night. But whatever time we tended to his needs. Yet in the background, I remember well, was an incessant "Beep, Beep, Beep"—the backup warnings of heavy equipment dumping tons of rock and dirt along the flowing Yellowstone in a frantic effort to build an emergency levee to hold back raging spring flood waters.

It was early June 1996—the first of two epic back-to-back flood years where the Yellowstone threatened to overtop its banks and wreak havoc on our river community. Before it was over, a giant levee stretched along the river through town all the way to Mayor's Landing. It was so large that it blocked the road through Sacajawea Park and was dubbed, "The Great Wall of Livingston."

Meanwhile in Paradise Valley, landowners scrambled to protect properties that were being nibbled, and in some cases, gouged away by the powerful floodwaters born of snowmelt in the mountains and rain. Armoring the river's edge with riprap was transforming once natural banks of the Yellowstone into piles of rock— a last-ditch effort to halt the loss of valuable real estate.

While totally understandable, this "riprap anarchy" threatened to transform the longest free-flowing river in the Lower 48 states into a waterway where the dams don't cross the river, but rather parallel it.

Eventually, flood waters receded. The levee was lowered. And a successful lawsuit against the US Army Corps of Engineers for failing to assess the cumulative effects of all that rubbled bank stabilization brought an end to the wholesale issuance of riprapping permits.

But no one was happy about any of this. And talk about a wake-up call! Clearly, we as local residents were unprepared to deal with these periodic floods in a manner that did not damage the river. Nor were we taking appropriate steps to make certain that people and property, especially new developments, were kept out of harm's way.

In response, the governor of Montana, Mark Racicot, called for creation of an "Upper Yellowstone River Task Force" made up of diverse individuals who had a stake in the future of the river—everyone from ranchers, to realtors, business owners, anglers, conservationists and scientists. Their charge was to develop a shared understanding of issues, competing values, and uses that impact the river.