Leachate — A Key To Unlocking The Chain Of Recirculating PFAS Forever?PFAS contamination is ubiquitous in the water cycle, but landfill wastew...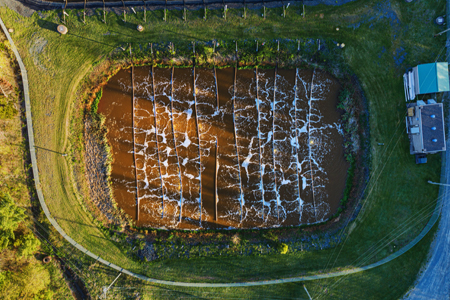 Leachate — A Key To Unlocking The Chain Of Recirculating PFAS Forever?

PFAS contamination is ubiquitous in the water cycle, but landfill wastewater leachate poses an opportunity to treat concentrated streams and break up the continuous movement through the water cycle.

Per- and polyfluoroalkyl substances, better known by their acronym — PFAS — and often called "forever chemicals," have been gaining increased attention over their presence in the water cycle. Indeed, PFAS are found in all parts of the water cycle, including wastewater, groundwater, surface water, and drinking water. They are ubiquitous because of their widespread use in consumer products such as food packaging, electronics, carpets, shampoo bottles, non-stick pans, and a plethora of other items. Moreover, these PFAS were designed to fight fires and coat our pans while cooking — it should be no surprise that they do not readily biodegrade in the environment. Since a wide variety of everyday products contain PFAS, landfills, and therefore leachate, are a hotspot for PFAS. If PFAS can be treated at landfills prior to leaching into surrounding waterways, the movement of PFAS through the urban water cycle could be limited. So, while leachates are undoubtedly a high, concentrated stream of PFAS, they are also an opportunity for treatment.

Landfill Leachate And PFAS Issues

Leachate is the product of precipitation infiltrating through the solid waste and potentially resulting in a rather complex mixture of dangerous contaminants for human and ecosystem health. Municipal landfill leachate is a source of PFAS contamination due to the extensive discharge of PFAS-rich consumer products. PFAS could take several different routes towards environmental contamination after placed in landfill facilities.

In the U.S., publicly owned treatment works (POTW) are usually responsible for the treatment of this waste leachate, which is commonly co-treated with domestic sewage. While the volume of leachate varies, it can be as much as 1% of the total influent volume at a POTW. The concentrations of PFAS can reach high concentrations in the order of ppm (or mg/L). PFAS treatment can be a challenging problem given the physical and chemical composition of landfill leachate that includes high levels of total organic carbon (TOC), total dissolved solids (TDS), and total suspended solids (TSS), and, in some cases, heavy metals, which may also be at ppm levels. These variables can all impact the downstream technology and the resulting removal and destruction efficiency. Different technologies have been implemented to reduce the discharge of PFAS into the environment.