5 Trends For 2021: The Year of the Ox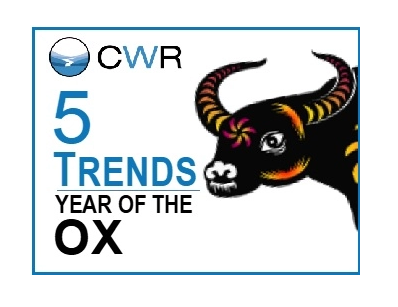 5 Trends For 2021: The Year of the Ox
Will we embrace the strength, hardwork & diligence of the Ox for better planet or remain stubborn 'old' cows? Find out in our 5 trends
The Ox should provide much needed support for re-building after a very disaster filled Rat year. To return to order and stability, we must make better decisions - embrace the transition to a zero-carbon future + have "no-regret" adaptation strategies
But still no herd mentality on carbon neutrality; so Central banks will continue to lead the way and ensure water risks are being assessed so that we adapt for inevitable impacts
China's prioritisation of environmental targets will continue by both reducing carbon and adapting to ensure a "Safe China"
Finally, we can all breathe a sigh of relief as we enter the Year of the Ox. Known for its strength, hardwork and diligence, the Ox should provide much needed support for re-building after a very disaster filled and disease dominant Rat year. The strong Ox also emanates stable and solid traits – rather boring sounding – but after 2020, boring, stable and solid sounds wonderful.
Pre-COVID lifestyles are a luxury of the past…

…our planet's imminent baked-in climate impacts demand deep changes
But this doesn't mean that life will ever be the same again. For those of you resistant to change and still hanging on to "it will get back to normal" – don't. Pre-COVID lifestyles are a luxury of the past. Even when we get over COVID-19, our planet's resource limitations and imminent baked-in climate impacts (most of which will manifest as/due to 'water' – drought/drought induced fires, floods, rain/snow/hail storms, glacier bursts, sea level rise, storm surge or wet bulb temperatures), demand deep changes.
As we said last year: "It's important to make the right decisions in the Year of the Rat. As the first animal of the Chinese zodiac, the Rat sets the tone for the next 12 years". For better or worse, the ever-multiplying Rat has facilitated the global spread of virus unleashing deep disruption upon us; forcing us to adapt and innovate – it didn't ask us if we were ready, it brutally ushered in a new norm. The Ox as the next animal in the Chinese Zodiac, it simply dutifully ploughs on to stabilize/execute the scurried plans made in the Rat year.
But the downfall of the strong Ox is that it's also stubborn; "old cows" that are resistant to change may lurk. So, can the Year of the Ox morph these stubborn old cows into raging bulls for a better planet? Or will we remain mired in bullshit, never to surface from the bog of fake news?
These paths could not be more divergent, yet both likely in 2021 due to the dual circulation/tracking that has emerged in 2020. But before we layout the roadmap to avoid the pitfalls of a load of bull to an Ox-picous 2021, let's take a look at how we fared with our trend predictions in the Year of the Rat …
What we said last year…
To recap, we said that the Rat's innate nature to survive meant that we'd smell a rat and take drastic action to survive water and climate threats ahead. The Rat favoured "bold decisions" and so we recommended these across the board – specifically building financial resilience as well as striving for development and business unusual.
Interestingly, with hindsight, countries that made bold lockdown decisions to shield their people from the virus fared better in 2020; China even managed a 2.3% GDP growth. Vietnam did the same with hard lockdowns driving infections down and GDP up by 2.9%. Bold moves pay off.
We did warn disruptions ahead will be deep & some C-suites will be caught off guard…
We did warn : "Beware, disruptions ahead will be deep and some C-suites will be caught off guard. Reputations will suffer, but don't burrow into your mouse hole. Instead, channel the Rat and think "adapt" and golden opportunities will unfold." As the outbreak became a pandemic, hundreds of thousands of people around the world lost their jobs as some industries flailed – aviation ground to near standstill , dirty thirsty fashion went bust and oil prices even ventured into negative territory. Meanwhile others sprouted with the rise of virtual meetings, webinars, universities, school and even gym classes.
When we cautioned " With the shocking emissions of our digital lifestyle, we must examine our own online habits" – little did we know how relevant our advice would be as we all spent more time at home and online; Netflix thrived. Incidentally, we did specifically highlight all these sectors in last year's 5 trends as ripe for disruption; plus, we did say those that are greenwashing will be ratted out!
2020 was a seminal year for climate change with lots of physical disasters…

…such as the most widespread Yangtze River Basin floods since 1998, which caused US$35bn of economic damage
While 2020 is the year we wished never happened, it was a seminal year for climate change. Physical disasters (and there were lots) butted for headlines with COVID – the most widespread Yangtze River Basin floods since 1998 caused US$35 billion of economic damage in China's monsoon season; Vietnam also endured several storm landfalls which resulted in more than US$1bn in collective flood and wind-related impacts; and the US$15bn in economic damage from cyclone Amphan was the costliest North Indian cyclone in modern records. 2020 was also the 2nd hottest year so far and there was a slew of grim research from the polar regions which pointed to accelerated sea level rise.
But beyond the doom and gloom, many cities across the world also saw crystal clear blue skies during lockdowns and the "return of nature" when wild animals started to roam city streets. For the first time, we actually saw what is possible if we just all stopped all human activity – we saw the possibility of a better world.
It was an aha moment for many – we are the cause of climate change, so we can fix it. A build back better movement around a more sustainable, responsible and circular future was spawned. On the bright side, the COVID lockdowns afforded us the time to dream and re-imagine our shared future.
Asia found its voice as the continent's three largest committed to carbon neutrality in 2020 – Cowabunga indeed!
More importantly, we said that Asia would turn from "Danger to Mighty Mouse" and "find its voice" as it had no choice but to deal with its urgent climate challenges. And rise it did … the continent's three largest committed to carbon neutrality in 2020. China kicked it off last September, with a policy statement of net zero emissions by 2060; if this is delivered China will shave off around 0.2 to 0.3°C from our current climate path of 2.1ºC-3.9ºC. South Korea and Japan followed suit in October, both targeting net zero emissions by 2050. Cowabunga indeed!
China's pledge came as a surprise to many, but we were not one of those – we did say "Despite the virus & slowdown, China's resolute on an eco-civilisation and will tai-chi there".
What did surprise us was the timing, but COVID did bring about a once in lifetime opportunity to "deploy aggressive action and bold innovations to usher out no-sense strategies" . Like we said last year – 福鼠临门 – which roughly translates to fortuitous rat arrives at your door, but how you tap its luck is down to you.
BTW, we did worry that the Rat could see Trump re-elected, but Rat's push toward a new norm for planetary survival over-rode that. Naturally, we are pleased to see Biden eke in the US's carbon commitments at the tail end of the Rat Year.