Digital Marketing Solutions for the Water Sector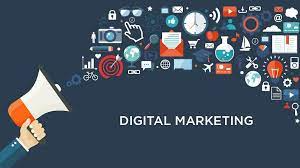 The Water Network offers the best digital marketing solutions for the global water sector with 200,000 page views per month, 120,000 members and reach to half a million water professionals.
Choose the best marketing solution for your needs or let us put together a 6 or 12 month custom campaign just for you.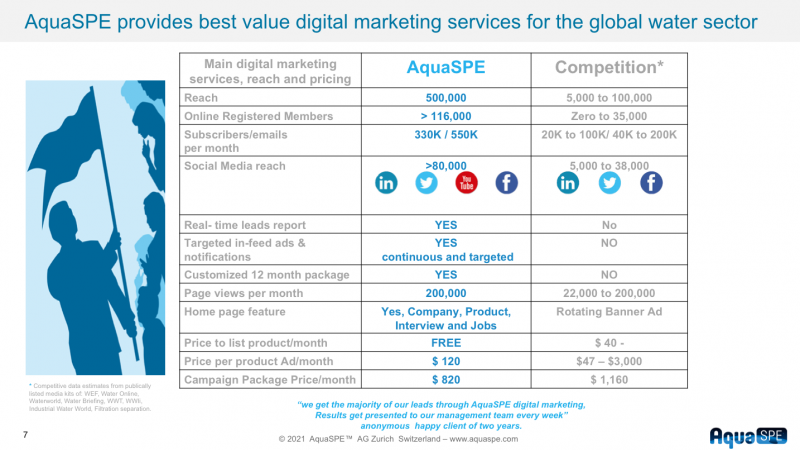 When sponsoring offers or any content it gets automatically recommended to all members who's interests match the content.
Real time leads reports can be downloaded from your organization profile at any time. See who clicked, who is interested and easily follow up leads.
Marketing services include promotions on TheWaterNetwork.com, to our >70K plus social media followers & in our newsletters that go to over 300,000. Options include:
Featured products & services
Featured content
Featured jobs
Featured tenders
Banner Ads
Custom mailings
Custom 6 or 12 month marketing campaigns (see attached)
To get started it is easy, just post your organization and offers in the business exchange , then select "Sponsor Now"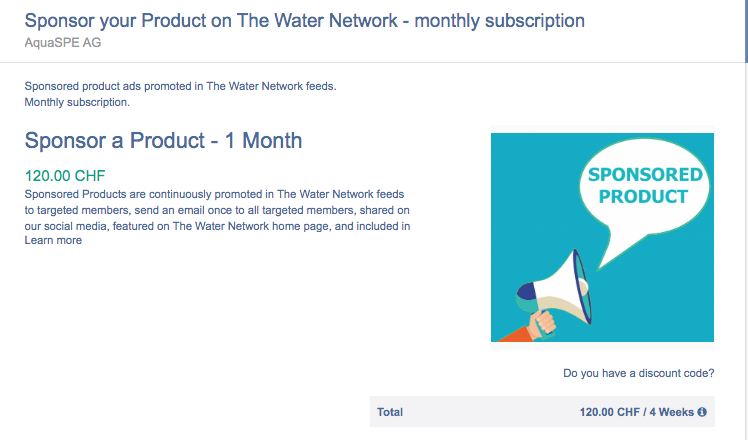 Get the broadest, targeted reach for the best price. Online lead reports provide as much information on leads as GDPR allows. Downloadable lead reports on demand, and views in real time.
Want to start getting product leads? it's easy- just add your product/service to your organization profile and select "Sponsor now".
We start promoting it as soon as it is sponsored. For all sponsored offers you get access to a downloadable real time lead report.
This highlights your offer on the home page of TheWaterNetwork, on the Organizations listing, and continuously to targeted members in the site feeds.
It also provides reach to our entire network of water professionals via our social media, and weekly email digests.
Proven to get good results and is very cost effective. See details here Digital Marketing offers.
Here's how in three easy steps.
Claim your organization
Publish your offer
Sponsor your offer
How to Claim your organization
Navigate to the home page of the water network and view your profile
add your organization to your work experience by going to your profile, scrolling down to work experience select "add work experience"
select "add work experience" or click the + to add a new one
Complete the add organization form starting with typing the organization name, if it already exists, select, if it does not yet exit add it
How to publish an offer
Go to your organization profile and select the type of offer you want to add (product/service/job/update)
Select "Create" and complete the form. If you wish to embed a slideshare or video paste it in the URL field. Be sure to add images, a cover image and tags as these will be used to target the promotion. then "Save". Files can also be attached if you have brochures or job descriptions o large pdfs
How to Sponsor an offer
Select the offer you wish to sponsor and click "sponsor now"
Complete the credit card information on our secure payment portal run by Stripe
Get daily leads by clicking the "get report" button that will appear on your organization profile

The "My Business" tab (top right) provides you a one-stop place to manage your organizations and offers.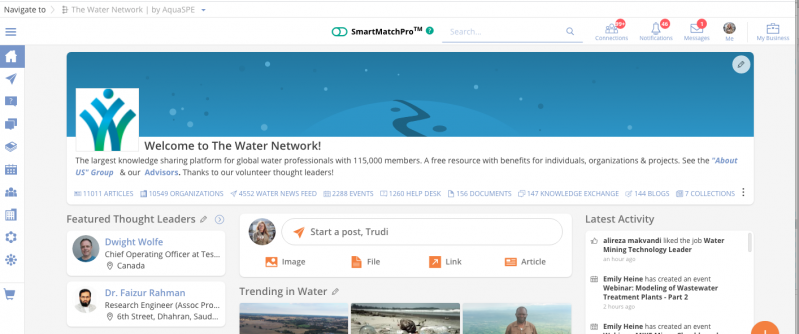 When you click "My Business" you have direct access to all of your companies, products & job postings. But that's not all, the business guide walks you through how to use the water network to find relevant bids for your offerings, and to get more leads.
PLEASE NOTE! If you create a product for a company it will automatically add that company to your profile.