Crisis Proves Out Omnia Fishing's Digital Strategy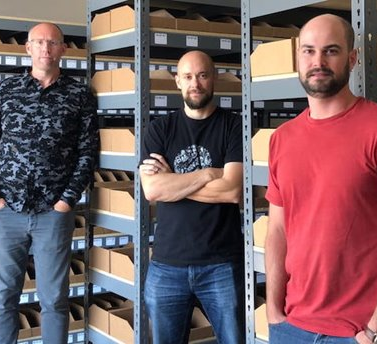 The Minneapolis e-commerce startup is projecting $1 million in revenue for 2020, up from $200,000 last year.
Omnia Fishing recently expanded the retail area of its Golden Valley warehouse, which is currently closed to the public.
Many a fishing enthusiast will say that solitude is one of the perks of being out on the water. With so few ways to safely get out of the house right now, the independence inherent to the sport makes it all the more appealing. As a result, Omnia Fishing, a Twin Cities e-commerce startup that helps anglers buy fishing gear based on the specific bodies of water they fish, is experiencing a surge in traffic and recently added four employees to assist with demand. The company is projecting $1 million in revenue for 2020, up $800,000 from 2019, which was its first full year of operation.



Omnia Fishing founders Dan Wick, Matt Johnson, and Chris Morgal

"We started out as a scrappy outfit with proven technology targeting a huge hole in the market," says Omnia Fishing co-founder and CEO Matt Johnson, a serial entrepreneur who also co-founded Able Brewing and Contour Innovations. He started Omnia with avid anglers and entrepreneurs Dan Wick, founding chief technology officer of Red Stamp, and Chris Morgal, who worked with Johnson on mapping technology for Lowrance. With their proven track record, the trio raised $1 million from local investors before launching. "We feel like we've got a big one here and it's something the market has been looking for."

Unlike some retailers that are experiencing a temporary surge due to changes in consumer behavior brought on by Covid-19, Johnson and his team are confident that the disruption has only accelerated the conversion rate for Omnia Fishing, and once shoppers discover the website, they'll be hooked. "Our full suite of products and technology that include connections between product content development, product reviews, fishing report and actual product sales allows us to reconnect the people that make the products with end consumers," Johnson says. "That's missing today with major brands being hamstrung by their relationships with big box retailers—a place where the shopping experience has declined quickly. Omnia's model is the future of tackle retail and we're excited about getting her early."

We talked to Johnson about how his team responded to the sudden change.