Impact Award Winner Talks About His Professional Work and The Water Network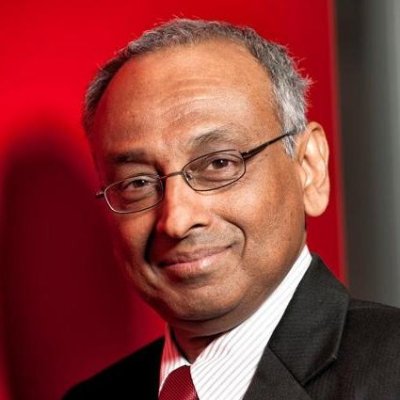 The Water Network is thankful to Prof. Ashantha Goonetilleke, for his contribution to our vision of bringing the world's water professionals on one platform and sharing water knowledge. It is our honor and pleasure to talk to him and discuss crucial water issue.

Image: Queensland University of Technology which is towards the bottom left-hand corner, by the side of the Brisbane River.
1. According to you, how can we meet the challenges of Sustainable water provision in the future?
Currently, our use of freshwater resources is quite unsustainable and will not be able to support the ever increasing demand over the long-term. There are a few options available. Firstly, we need to be very serious about water conservation. Secondly, we need to widely adopt wastewater recycling and stormwater reuse. This brings into focus the related concept of 'use of water fit-for-purpose'. In other words, the use water of a specific minimum quality, which is suitable for its intended use. For example, we need to use good quality water for drinking, cooking and bathing, but not for other uses where lesser quality water can be used.

2. You have written a majority of research papers on Climate change, would you like to tell us what is the impact of climate change on urban water demand? Can you share any case study you have evaluated?

Image: Main entrance to the University
It is quite unfortunate that the impact of climate change on urban water demand is not receiving the attention it deserves. The commonly predicted impacts of climate change include, increase in ambient temperature, greater frequency of drought periods and strengthening of the 'urban heat island' effect. A review of published research literature undertaken as part of a book publishing initiative confirmed that all of these impacts will lead to an increase in the water demand for personal use as well as uses such as building cooling and outdoor activities such as the irrigation of parks and gardens.

3. On what research project you are working these days? Do you think the new generation coming in field of water research and study is sensitive towards the water issue?

Image: Research centre – Outside of the Science and Engineering Centre Building
Just completed an Australian Government funded project in Indonesia looking at the potential health risk to communities arising from the contamination of surface and groundwater resources as a result of poor sanitation. This in turn formed the basis for the development of a decision support framework for the provision of appropriate sanitation infrastructure taking into consideration a range of influential factors. The project also entailed a significant knowledge transfer and capacity building component.
This was a multidisciplinary project and required the involvement of a wide range of disciplinary expertise. This is an essential requirement for any water related project. Unfortunately, the current generation of water researchers does not always have the deep appreciation of the multidisciplinary nature of water related research.

4. What changes would you like to see in the water research sector in terms of focus and strategy? How best can the research findings be made available to entire water sector?

Image: Research centre – Inside of the Science and Engineering Centre Building
The water resources sector is currently facing significant challenges as a result of climate change, pollution, increasing demand and unsustainable extraction from existing resources. Accordingly, the priority areas for water resources research are:
A strong focus on water conservation, substitution, reuse and recycling, enshrining the concept of 'use of water fit-for-purpose.
A strong focus on stormwater pollution and treatment based on the clear understanding that stormwater is an invaluable resource and the associated pollutants can have significant impacts on human and ecosystem health.
A focus on water infrastructure resilience and water security in the context of climate change impacts and increasing demand due to industrialisation, urbanisation and population growth.
Researchers have to ensure that their studies are based on identified industry/community needs, they partner with industry/community in undertaking the research and that there is clear and continuous communication with the community from project inception. A partnership based on mutual respect between the research team and industry/community will ensure the wide dissemination of the study outcomes

5. You have also done a significant work in producing research outcomes and translating these outcomes for practical application. Do you think there is a knowledge gap among water professionals? Do you think sometimes the research done in the laboratory does not reach to the field workers and it remains on papers?

Image: Dissemination activities. Seminar presentation to Indonesian academics and local government officers on the outcomes of a recently completed (2015) research project on sanitation related water pollution and public health risk
There are significant knowledge gaps among water professionals. A number of reasons can be attributed to this situation. Firstly, not all professionals keep their knowledge current. Secondly, there are very limited scientific interactions between researchers and the broader professional community. Thirdly, most organisations do not provide the opportunity nor create the environment for continuing professional development of their employees.
The major fraction of the outcomes of research undertaken does not reach the professional community and those at the 'coal face'. The primary reasons for this unfortunate situation arises from the poor understanding of industry/community needs and the lack of interaction between the two groups as identifies above. Often, researchers are more interested in publishing a 'clever' paper rather than the wide dissemination of study outcomes to the local community who may stand to gain the primary benefits from a study. However, at the same time, there is always the need to undertake fundamental research, which will underpin subsequent, more applied research which can directly benefit the industry/community.

6. How can we best bridge this information gap? Do you believe that there is a need of knowledge sharing platform like The Water Network?

Image: Prof Ashantha with a doctoral student for data collection for a stormwater quality project at Brisbane Airport
Knowledge sharing platforms such as The Water Network play a vital role in the wide dissemination of research study outcomes and in bridging this knowledge gap and in providing a platform for knowledge exchange and transfer. Highlighting the latest innovations, the most recent findings and cutting edge practices can be inspirational as well providing the essential benchmarks for professionals to aspire to achieve.

7. Tell us about your journey of finding The Water Network and contributing as an Impact leader. Do you think this is a rewarding work for you?

Image: Field visit with an Australian and Indonesian academic in relation to a research project on sanitation related water pollution and public health risk
In a way, The Water Network found me! I post occasional blogs related to water on Linkedin. At the same time, I was searching for an appropriate forum specialising on water where I could contribute more deeply and at the same time to interact with fellow practioners. Therefore, when I received an invitation firstly, to join The Water Network and subsequently as an Impact Leader, I readily agreed. It fulfilled a long-felt need.
My work as an Impact Leader is rewarding as it gives me the opportunity to disseminate knowledge and to advance the sector knowledge base. To a very great extent, it is an extension of my role as an academic and researcher with Queensland University of Technology, Australia

8. As "Impact Leader" what is your role on the Water Network?

Image: Lecture on rainwater harvesting to postgraduate students, Tsinghua University, China
My primary role is to source information relating to the latest innovations, the most recent findings and cutting edge practices in relation to water resources and to make these available to the broader The Water Network community.

9. What would you suggest to other volunteers of the Network? Would you like them to encourage to help build The Water Network a knowledge bank for water sector?

Image: Presentation to the Water Resources Agency, Shenzhen, Guandong Province, China, on water resources management practices in Australia
Being an integral part of the Network, we play a critical role in its success. It also implies that we are committed to contribute to protecting the water environment by disseminating knowledge. As a volunteer, the satisfaction we gain from our effort is to witness success! Therefore, there is no better way than to ensure that The Water Network becomes the pre-eminent knowledge bank for the water sector.

10. What are your future career ambitions?
Having travelled through many poor countries, visited slum areas and informal settlements in these countries, I have witnessed at first hand the clear linkage between poverty and access to good quality water. I am actively seeking opportunities to contribute my expertise and experience to help these communities and to improve their access to good quality water and sanitation, to reduce water pollution and to minimise the significant health risk burden. Currently, I am involved in projects in Indonesia and Sri Lanka and would like to expand this list.