In Conversation with Lindsay Stradley, Co-founder at Sanergy, a company focused on Urban Sanitation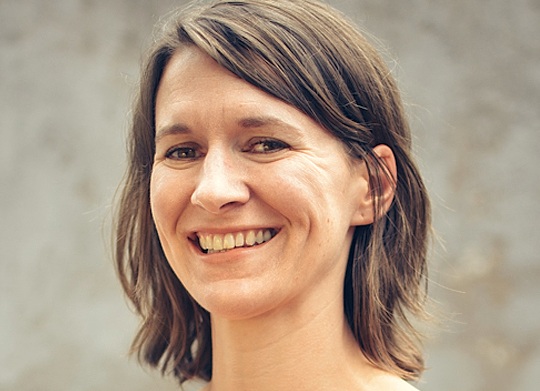 Today we introduce Sanergy, a company created around a noble mission to make safe sanitation affordable and accessible for everyone forever.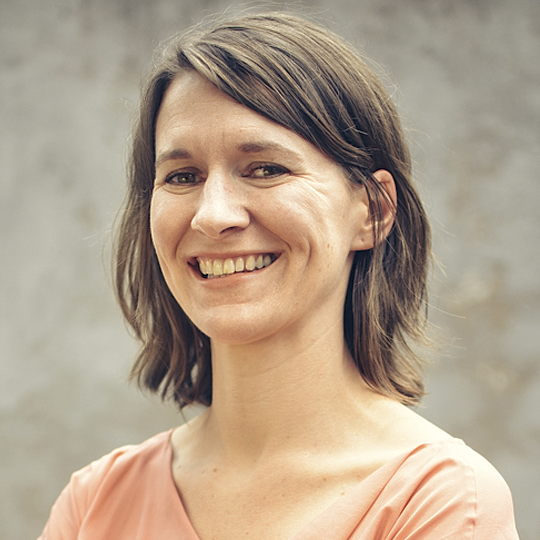 Founded by three MIT graduates - Ani Vallabhaneni, David Auerbach and Lindsay Stradley, Sanergy has expanded to having 250 employees ranging from engineers to WASH specialists, all of whom are dedicated to building bold and innovative solutions for cities facing sanitation and waste management challenges.
It is our pleasure to share insights from our talk with Lindsay Stradley, an expert in urban infrastructure and a problem-solver with an admirable track record. Here she talks about the struggles related to poor sanitation and waste management in Kenya, as well as innovative projects such as Fresh Life Toilets designed to overcome these challenges.
THE WATER ​NETWORK: Can you give us a short introduction to Sanergy, the team behind it and your company mission?
LINDSAY STRADLEY: Cities are growing rapidly and existing infrastructure is struggling to keep up. Today, 4.5B people globally do not have access to safely managed sanitation. As a result, they are exposed to dangerous diseases, and the environment is polluted with waste and pathogens. Every year, 1 million people die due to sanitation-related diseases and the global economy loses up to 260 billion in impaired productivity.
Sanergy takes on a systematic approach to tackle this urban sanitation and waste management challenge. We build a suite of sanitation services and products, which are leased to city residents who pay a subscription for the toilet and regular, professional waste collection services. We then safely remove and transport all of the waste generated by our customers to a central processing plant where it is treated and converted into agricultural inputs (organic fertilizer and insect-based animal feed). It's a closed-loop solution that leaves zero waste behind.
We launched our very first Fresh Life Toilet on November 19, 2011 (World Toilet Day). To date, we have built a robust network of 2,880 facilities across 11 urban informal settlements of Nairobi serving over 100,000 residents every single day.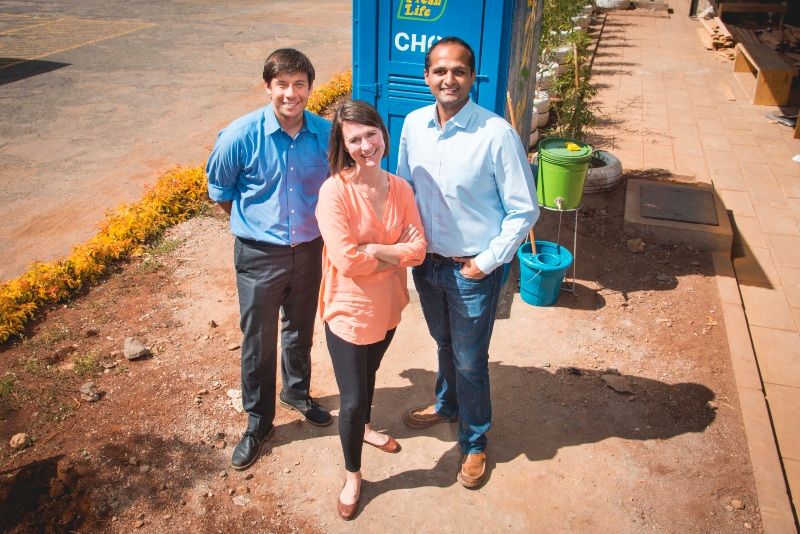 Sanergy Co-founders: David Auerbach, Lindsay Stradley, Ani Vallabhaneni (All images by Sanergy)
TWN: Taking from your experience, what are the main reasons why cities like Nairobi struggle with implementation and maintenance of sanitation and sewage systems?
LS: Since Sanergy launched operations in 2011, we have identified 3 critical challenges that governments face in delivering city-wide safe sanitation.
First, a lot of focus is given to access rather than the entire value chain. That is, when sanitation facilities are provided, there's no one to maintain them by making sure that they stay clean, safe and open. In addition, inadequate strategies are put in place for safe containment, emptying, and disposal or repurposing of all the waste generated by urban residents.
Second, residents living in urban informal settlements, are simply not treated like customers – they are the most marginalized populations. Today, 1 billion people live in urban slums with inadequate housing and limited access to basic services, a number that is expected to double to 2 billion by 2030. As cities grow, this problem is growing and becoming even more complex to solve.
Third, for governments, in particular, the main solution that they have at the ready is sewers, which are too expensive to build, require too much space, and generally take too long to build.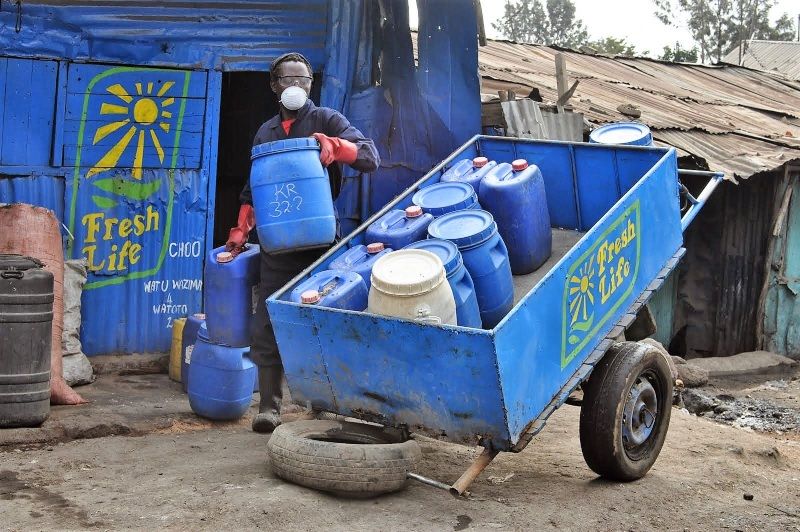 Fresh Life Toilets are high-quality & low-cost. Sanergy's team safely removes waste from the community on a regular basis.
TWN: Last year you delivered an interesting and a bit provocative TED Talk on the issues of sanitation in Nairobi. There you mentioned a surprising problem regarding sewage management which is related to the way we talk (or, better yet - do not talk) about sewage. Where are you in your mission to convince Nairobi authorities to, as you put it, "give more shit" about sewage and sanitation?
LS : In Kenya, 8 million people live in urban slums where safe sanitation and waste management is inadequate. 65% of this population is found in Nairobi slums alone and by 2030, about 2 billion people will live in urban slums. The time to tackle this looming sanitation crisis is now and over the years of Sanergy's operation in Kenya, we have built strong partnerships with the government to ensure that by 2030, we reach everyone everywhere with safe, accessible and affordable sanitation.
We have collaborated with the government to create an enabling environment that ensures alternative sanitation options such as ours thrive in serving the Kenyan citizens. In 2016, we contributed to the updating of the Kenya Environment, Sanitation and Hygiene (KESH) Policy that now includes container-based sanitation as a viable option for the provision of safe sanitation.
In 2018, we launched the Nairobi Shit Flow diagram - a map that depicts the flow of fecal waste in Nairobi. This was in partnership with various stakeholders in government and the research sector. It is a first-ever toolkit developed in Nairobi that brought together all sanitation practitioners and helped them to have a common understanding of the scope of the sanitation challenge. This toolkit has helped to shape various government strategies and policies around sanitation provision and funding.
TWN: Tell us more about Fresh Life sanitation units. How do they work and how effective they are in the separation of liquid and solid waste?
LS: Our Fresh Life Toilets use urine-diverting technology. Each toilet has a squat plate, which separates the fecal waste and urine at the source. All of this waste is then safely consolidated by cartridges, which are safely double-sealed, and removed regularly by the Sanergy team.

Today, Sanergy counts over 2,000 Fresh Life Operators in their network who provide safe sanitation to urban residents.
TWN: Part of your business model is the conversion of waste into valuable end-products such as organic fertilizer and insect-based animal feed. Do you find barriers with legislation or in the market to qualify and accept the use of biofertilizers?
LS : Sanergy safely treats all of the waste we remove from cities and convert it into valuable agricultural inputs. Organic fertilizer is our main product, which aims to address low farm yield experienced by 80% of Kenyans who rely on agriculture for their livelihood. Our organic fertilizer is a fully approved product for sale in Kenya by the Kenya Bureau of Standards. It has been tested and proven to be safe and of high quality - it increases farmers' yields by 30%.
We also produce insect-based animal feed aimed at providing Kenyan farmers and feed millers with a consistent, high-quality protein feed source for their livestock. This is one of the valuable end products that we manufacture, and the process is still ongoing.
TWN: Besides delivering this product on site, your company also provides operational support and waste collection service. How do you manage this as a small company?
LS : Sanergy has built a robust team ranging from customer service experts to engineers who develop pragmatic yet innovative ways to ensure excellent services to all our customer segments. We use low-tech or offline strategies such as digital mapping - where we map all our Fresh Life Toilets into collection routes for an efficient waste collection service to our customers.
We also use mobile technology to enhance our customer service delivery. Through this technology, we are able to receive and give feedback to our customers in real-time.
TWN: On your website, you stated that the solution to this problem is lowering the cost of sanitation provision. How are you proposing to make this happen?
LS : Over the years of Sanergy's operations, we have come to understand that one of the big challenges that governments and municipalities face in the provision of safe sanitation is the high costs associated with providing conventional sewered sanitation to their citizens. In fact, a study in Dakar, Senegal showed that it takes $56 per person per year to provide adequate sanitation.
As such, Sanergy aims to make our sanitation model cost-effective for easy uptake by growing cities. At present, we provide safe sanitation at a cost of $23 per person per year - 3x cheaper than the sewered sanitation option and by 2022, our goal is to serve 1 million people throughout Nairobi, at a cost that is 10x cheaper than sewers.
To achieve this goal, we are scaling our operations by increasing the density of our sanitation products and services in non-sewered areas and working towards building public-private partnerships with the government aimed at reaching more urban residents with our solution.