In Conversation With: Corey Williams, President and CEO of Optimatics
The Water Network team had the pleasure to interview Corey Williams, President and CEO of Optimatics.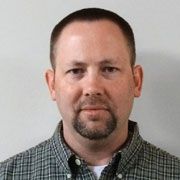 Established in 1996, Optimatics was founded by engineers who recognized the potential of Computational Intelligence to revolutionize water system planning.
These advanced algorithms enable analysis of tens of thousands of trial solutions, where traditional methods allow a planning engineer to evaluate only a few.
Using Optimizer results in an overwhelming decrease in the cost associated with capital projects and on-going operation and maintenance expenses. Corey Wiliams oversees all aspects of the Optimatics business.

Q1: Corey, thank you for this interview. Would you please tell our readers about your professional path and background?
A: Thanks for the opportunity. I started my career with Black & Veatch as a civil engineer working on hydraulic modeling and biosolids management software's and ultimately ended up leading the firms externally focused IT consulting and software development practice.
I left B&V in 2005 and co-founded a water and wastewater IT consultancy and software company called Inflection Point Solutions (IPS). In late 2012 I joined Optimatics as its President and CEO and have enjoyed helping transition from its consulting oriented history to a Software as a Service company today.

Q2: You are the President and CEO at Optimatics, please tell us about the company and how it came to life.
A: Optimatics was founded out of the University of Adelaide in South Australia nearly 20 years ago based on the PhD research of Dr. Laurie Murphy, his academic advisors our co-founders Dr. Angus Simpson, Dr. Graeme Dandy, and their US-based colleague, Dr. Jeff Frey.
Using Laurie's research, Optimatics went to market with some powerful intellectual property and applied it in a traditional consulting context; billing the labor associated with review of data, preparing models, executing optimization runs, etc. The firm enjoyed great project successes and helped clients in the US, UK, and Australia avoid billions of dollars in unnecessary capital expense.
What became readily apparent though to our founders and the Optimatics Board of Directors about 5 years ago was that we were limiting the effectiveness of our team by tying the use of our products to the use of our labor and, as importantly, water and wastewater utilities and our consulting partners were truly quite capable of using our software themselves to achieve the same outstanding results.

Q3: Wha t does Optimatics do?
A: Optimatics supplies metaheuristic optimization software to utilities and consulting engineering firms for application to infrastructure planning. (Note: a metaheuristic is a high-level procedure to select or generate a solution to an optimization problem with often imperfect data).
Perhaps more simplistically, our software has a holistic suite of genetic, evolutionary, linear, and other algorithms that work in concert with applied heuristics (e.g., the 'rules' that keep the algorithms honest and ensure the solutions are practical) to assist utilities in their capital and operational planning.

Q4: How exactly does the infrastructure planning software work and which features does it have?
A: The infrastructure planning software industry is known largely by its traditional vendors that all do a great job in the simulation and modeling space. Most utilities use these products through best engineering knowledge and applying a trial-and-error process of iterations; trialing different combinations of infrastructure assets to achieve a desired outcome in their short or long term planning.
By example, an engineer working on behalf of a utility might be attempting to solve a pressure issue related to fire flows or maybe how to effectively utilize green infrastructure (rain gardens, cisterns, permeable pavement, etc.) to offset grey (pipe, storage vaults etc,)on a localized stormwater issue. In the traditional context, the engineer applies their knowledge of the infrastructure and technical skill to the model; starting with their best guess of a solution and using feedback from the model to inform and adjust successive runs.
Often, through the limitation of budget or time, these efforts reach a conclusion that the model indicates will be successful and the project cost is calculated. At that time, the engineer can be assured only that the solution will work; but they cannot with certainty know if the proposed outcome could be made more efficient or the results achieved at a lower cost. To be clear, this is not a limitation of their expertise, but rather of the physical time and the traditional tools available.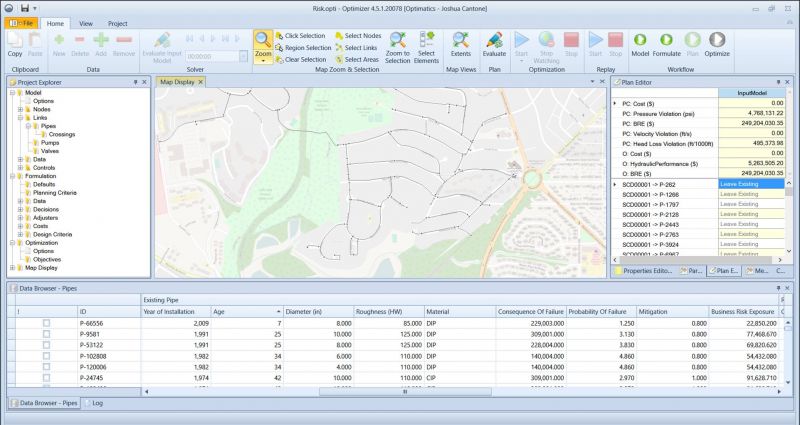 In the Optimatics world, the engineer utilizes their skill, expertise, and creativity to load every possible option (e.g., pipe sizes, pumping options, green infrastructure considerations, etc.) and all of the design constraints (e.g., min and max pressures, energy costs, etc.) into our software.
Optimizer WDS (for water) or WCS (for wastewater) would then begin leveraging a cloud-based high-performance computing stack to systematically and intelligently trialing hundreds of thousands of different combinations of the same assets the engineer dealt with in the traditional model. The same simulation model is used (i.e., there are no 'tricks' employed by using different models) but in each 'run' of the simulation model both the hydraulic efficiency relative to the design constraints, and the costs for that solution are evaluated.
High performing/low cost solutions are advanced for further manipulation by the algorithms while underperforming or high-cost solutions are abandoned. Ultimately, the Optimatics engine produces a number of outcomes that achieve the desired result at the lowest possible cost.
The engineer is then free to utilize their time to run more scenarios (e.g., challenging assumptions, dealing with sensitivity analyses, restricting or changing options to evaluate optional results, etc.). In our world, we want the engineer to use their time in decision making and more robust evaluation, not in the 'math' of the problem.

Q5: Why is it important to invest in the optimization of water and wastewater systems?
A: Its quite simple really, only through optimization can we have some trust that the outcomes have been as fully and thoroughly vetted as possible and that we are ultimately spending appropriately to solve the overwhelming infrastructure problems as effectively as possible in this country (and throughout the world).
We owe it to the rate payers, and the owners of the debt many utilities incur to tackle their massive capital programs, to minimize the costs while meeting the levels of service demanded. If we can achieve lower costs and the same or better system performance, within the same timeframes as more traditional methods then aren't we failing in our stewardship to not try?

Q6: How are money and energy savings related to infrastructure and assets optimization?
A: One thing Optimatics tries to do consistently is state with respect to money that optimization is about 'cost avoidance' and not necessarily 'savings'. While we conversationally sometimes fall in to saying 'savings', in fact what optimization actually does is provide the information to the engineers that help them make decisions that can eliminate preventable spending.
It should be noted, though, money and energy savings are not the only factors a utility must deal with in their planning. Often there are political, social, environmental, regulatory, or other pressures that influence the decision making. While money is a critical component of optimization it is not the only item, good optimization considers in its algorithms these other influences; still seeking the optimal combination but not exclusively focused on the money.
Each utility can, and should, determine where their priorities reside in the exchange between capital and operating expenses and similarly in non-cost factors; but the tools exist to make this determination, understand the tradeoffs, and ultimately avoid making poor decisions.
Q7: Ho w does Optimatics affect day-to-day and long-term planning of the water and wastewater infrastructure?
A: At South Australia Water in Adelaide, Australia our software is utilized in near-term daily planning to inform on a wide variety of user posed questions (e.g., how much water to order from each facility this week, this month, etc.? What will we do when we take a particular pump station off-line this coming summer? Can we achieve the water quality blend we desire at these production levels?, etc.). This system titled 'The Distribution Optimization Tool' or 'DOT' for short was part of SA Waters achievement of the Global Water Award in 2015 for Performance Innovation.
Optimatics tools are also used both in long-term planning and in 'ad-hoc' planning. Long term includes the arena of master plans, new community growth, major capital programs, and consent decrees.
We label as 'ad hoc' all of those daily or monthly challenges that arise in the utility dealing with pressure problems or flooding or water quality or any other issue that engineers and planners have had to deal with in between all of those master plans. Often Optimatics software is used during a master plan to evaluate amongst competing alternatives at a macro level and then again in an on-going context to refine these programs at a micro level.
Master Planning efforts are typically undertaken every 5 years to define the strategic road map for investment and operation of the Utility. The challenge is that with ongoing changes that may have been unforeseen (population growth, housing density, climate etc.), the Plans quickly become outdated. Our software provides the Utility to continuously plan dynamically to the ever changing conditions.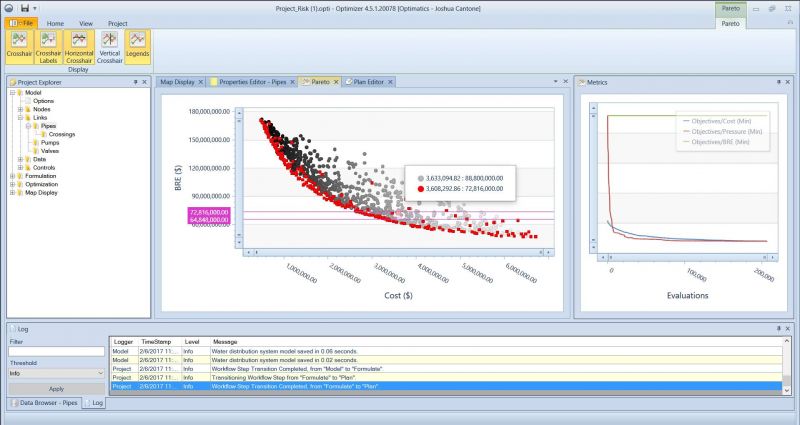 Q8: Who are your target customers?
A: Ultimately, the water or wastewater utility is our end customer but we are very pleased to work with a number of engineering firms who apply our solutions. In particular in the engineering community, we value greatly our partners who have invested in training to best understand our software and bring it to bear for the benefit of their customers.

Q9: Do you have any success stories about Optimatics "saving the day"?
A: Optimatics has been utilized on over 350 projects worldwide with cost-avoidance of nearly $3B when compared to the traditional plans we assisted in superseding. There are many wonderful stories from a small utility in Missouri that were thrilled to find a $5M savings on a proposed $7M project for stormwater culverts to a large international utility that avoided development of a major interceptor by upgrading existing piping saving them over $400M and simultaneously extending the life of those pipes through rehabilitation.
Perhaps though our biggest success and "saving the day" is how we have many times found consensus among competing interests. Optimatics software evaluates the system in an agnostic and unbiased way; it simply applies the algorithms to the options it's provided and against the constraints it's given. Pet projects or "I think we should..." opinions either hold merit or don't when considered without emotion by the algorithms.
A case in point is one of our best customers in Bend, OR. The community and utility were really divided on growth, new asset location, and many other considerations during the development of a wastewater master plan. The City put together a 'Sewer Infrastructure Advisory Group (SIAG) comprised of concerned stakeholders; each with their ideas on the aforementioned subjects.
Optimatics software was utilized by the City and their lead engineer, Murray Smith & Associates, to parse through all of the proposed SIAG stakeholder options; alternatively, trailing one members thoughts within the context of all options and even individually as its singular option to fully explore the universe of solutions. Ultimately all 17 members of the SIAG unanimously agreed to endorse the master plan; a feat those members attributed in large part to the results generated by Optimatics.

Q10: How are the infrastructure planning software changing water utilities in comparison to the past couple of decades?
A: I think this has largely been addressed in earlier answers but I might add that infrastructure planning software is evolving and many new and exciting technology companies (e.g., Emnet, OptiRTC, and others) are paving some exciting pathways for utilities to follow.
We have only scratched the surface of possibilities to manage our costs, build and grow expertly, and use what we already more efficiently. Cloud processing that provides access to a lot of computing power has facilitated the advancement of Optimization technology and can produce results in a timely manner. This technological advancement now meets a Utility's decision making timeline to support their business. The technology is now practical to use.

Q11: What are your future plans for Optimatics?
A: Optimatics is excited about our future and we have already started on our next evolution; engaging and partnering with other technology companies to layer and integrate our solutions as part of more comprehensive asset management systems, as applications within the industrial internet and overall on the evolving platforms for intelligent water systems.
Q12: Finally, do you have a take-to-home message for our readers?
A: Perhaps only a challenge to not be so quick to adopt or rely on traditional approaches and to be more open to the unique technology of small innovative companies that look for opportunities to improve upon the ways things have always been done.
Find out more about Optimatics!