In Conversation with Derk Maat, the Chairman & CEO of SciCorp International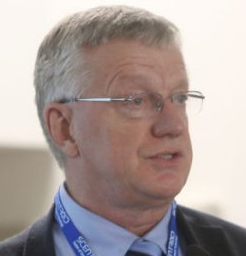 We caught up with SciCorp International's Chairman & CEO, Derk Maat, who was presenting a Success Story Case Study at World Water-Tech North America 2018 in Toronto.
SciCorp International's bioaugmentation technology is demonstrably innovative, cost-effective and multi-functional as it can be applied in large wastewater treatment facilities, very simple pits, lagoons, and septic tanks. It has the potential to change the way we treat waste while reducing the carbon footprint and environmental impact of sanitation practices around the world.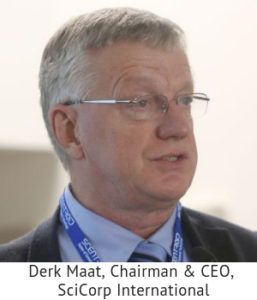 What are today's most urgent challenges that utilities and municipalities face with wastewater management?
Three high-level challenges that face every wastewater plant:
Minimizing environmental impact : from reducing ammonia and nitrogen discharge to meet stringent effluent criteria, to managing odor control for health and wellbeing as a responsible employer and as a good neighbor, which impacts options for sludge disposal.
Efficiency and cost: how to manage high operating energy costs, reduce costs of sludge processing and disposal, removal of nitrogen from effluent and high cost of nutrient recovery
Optimizing assets: maximizing outputs from ageing overloaded wastewater plants
What solutions have SciCorp International developed to support this challenge?
SciCorp International has developed innovative and cost-effective bio augmentation solutions based on specially formulated micronutrient stimulants. These stimulants cause significant and beneficial changes to the nature and the efficiency of the dominant bacterial populations that drive the digestion process. At the same time the micronutrients significantly reduce the generation of H2S, nitrogen and ammonia among other things.
Dissolved and solid organic waste in wastewater treatment is degraded by bacteria that are generally classified by their ability to survive and multiply in the presence, or absence, of oxygen. Whether it be Aerobic, Anaerobic or Facultative functioning bacteria, one of the rate-limiting steps in removing organic solids from wastewater is hydrolysis. A major contributing factor to this problem is that hydrolyzing bacteria are not functioning at full capacity due to micronutrient limitations.
By feeding the beneficial bacteria specific micronutrient blends, dissolved and solid organic waste breaks down faster reducing the strain on the infrastructure, minimizing the need for aeration and decreasing the output of sludge production. These impacts lead to savings in energy costs, sludge processing and disposal costs as well as cleaner effluent. As a result, plants have seen sludge volumes reduced by 25% or more and energy consumption reduced by a similar percentage.

The same organic micronutrients have been found to significantly reduce the generation of H2S and ammonia by aerobic bacteria. The presence of micronutrients creates conditions that allow methane producing bacteria to out compete hydrogen sulfide producers for available carbon and other nutrients rendering them dormant and unproductive. They have also been shown to block the activity of the enzyme urease. Its blockage prevents urea present in the wastewater from being converted to volatile ammonia.
With the faster digestion of dissolved and solid organic waste, plants are able to increase their capacity without any infrastructure additions or improvements. With a fully organic solution, it eliminates the need for inorganic chemicals for odor control that tend to inhibit biological activity. Best of all, SciCorp products are plant-based solutions that will not upset biological treatment processes.
How are these different to other technologies for wastewater plant performance and odor control?
Unlike many other chemical-based technologies – which may be heavy metal based solutions or rely on bacterial or enzyme formulations – SciCorp micronutrients are both organic and sustainable. Our plant-based organic compounds are extracted from plant species grown by sustainable agricultural practices and specially formulated for optimal impact. These micronutrients stimulate metabolic activity of bacterial species already found in all wastewater plants, and they competitively inhibit odor-producing bacteria without need for further additives.
Where are you operating these and what results are you seeing?
Wastewater plants in Canada, USA and other countries are using SciCorp technology at full scale. One of our larger clients include Kansas City who is using it in two plants and soon will be adding it to a third. The initial Kansas facility originally tested SciCorp's products to help overcome an odor issue that was keeping them from being able to tip their residual sludge. Not only did the SciCorp solution eliminate the odors, the plant saw a reduction in sludge in excess of 25% and experienced considerable savings in hauling and tipping fees and operational costs.
What projects are in the pipeline for SciCorp International?
Louisville Kentucky has just decided to use the technology in their municipal plant. SciCorp International is currently in discussions with several larger municipalities in the USA and Canada. It is also expanding its technology application in countries around the world through a network of distributors and agents. Of note are the discussions with a large waste handling company who wish to supply their wastewater clients with our product to eliminate sludge odors, which are a major cause of landfill odors.
What learnings and potential partnership opportunities are you hoping to discover at World Water-Tech North America?
SciCorp International hopes to initiate and continue dialogue with utilities and municipalities to better understand their wastewater treatment challenges and is looking to partner with other wastewater treatment technology providers in this field to advance our innovative solutions and communicate the unique benefits that our technology provides.
SciCorp International also hopes to increase its presence and profile to provide our uniquely innovative technology for consideration across the wastewater treatment industry in North America, Europe, Africa and Asia.
To learn more about SciCorp International, visit scicorp.net or follow on Twitter @ecopossibility
Read More Interviews from the 'In Conversation With' Series
by The Water Network