In Conversation With: Grant Gibbs, Executive Director of Hippo Roller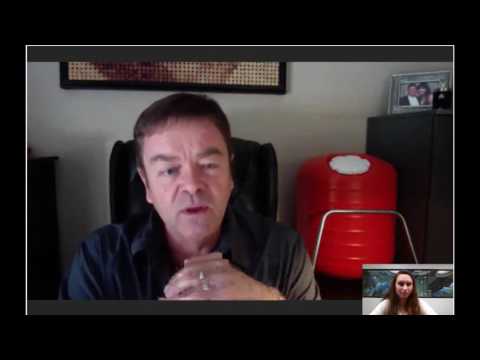 The Water Network interview with Hippo Roller's executive director, Grant Gibbs.
Grant Gibbs is an Executive Director of Hippo Roller, established in 1994 in response to the unique needs and constraints in terms of access to water of rural women and children across Africa.
The broad social impact of Hippo Roller has been felt in more than 20 countries, with a total distribution of 50,000 Hippo Water Rollers, and a reach of close to half a million people.


Q1. Thank you for taking the time to talk to us Grant. Would you please introduce yourself to our readers?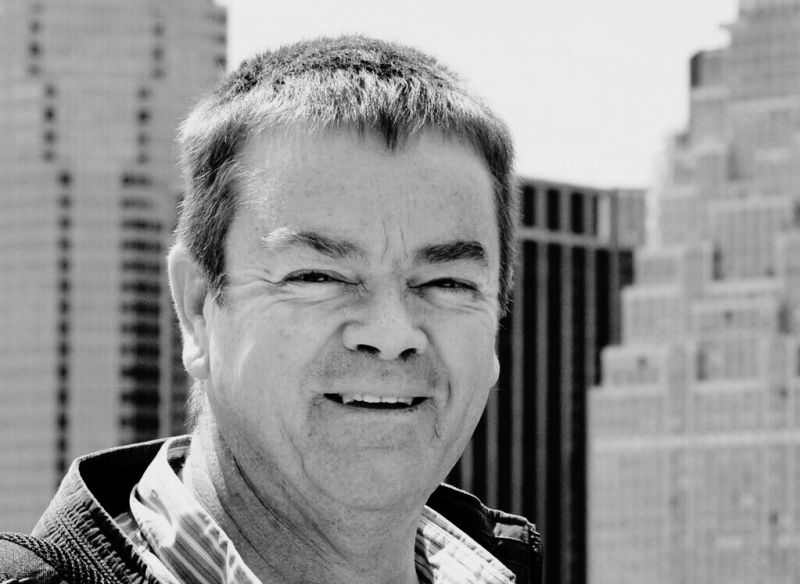 It's my great pleasure, thank you for the invitation.
My name is Grant Gibbs, and I am the Executive Director at Imvubu Projects (Pty) Ltd, a social enterprise that trades globally as Hippo Roller.
Born in South Africa, I live in Johannesburg, the economic hub of South Africa, and the base for Hippo Roller operations.
I've been happily married for 28 years now, and am a strong family man with two sons, one who practices architecture and the other who has recently joined me at Hippo Roller.

Q2. You were previously working in the IT sector, how did you decide to completely redirect your career.
It was not a conscious choice to move from high-tech to low-tech and despite a reasonably successful career, it is clear to me now that I was looking for a more meaningful purpose in life.
At the time I was employed as a Technician & Sales executive at Infotech for some 11 years (from 1987-1998), and whilst employed there I became a part time distributor of the Hippo Roller. Infotech persuaded me to pursue this option with them, and together we formed Infotech's RDP (reconstruction and development program) department in 1994.
Later on The Hippo Water Roller Trust was formed.
Through the trustees, I was fortunate enough to twice meet Nelson Mandela, who instantly understood the potential impact of the Hippo Roller in rural communities, and endorsed it, appealing for corporate support for the project.
I must say, this has been my experience with the Hippo Roller since its inception, its sheer simplicity and immediate impact are self-evident to all who come across it.
Eventually in 1998 Infotech decided to close the RDP division (and Trust), and I have been managing the Hippo Roller in my personal capacity ever since.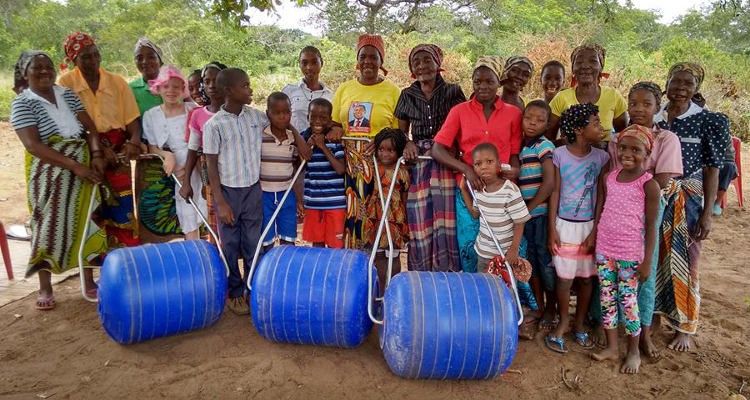 Figure 1: Hippo Rollers in Mangundze (Carlos Morgado Foundation).

Q3. Please tell us about Hippo Roller and what you do.
With hundreds of millions of women and children struggling daily for this basic human right (of improved access to water), the Hippo Roller makes an immediate, and profound impact, significantly improving their ability to collect more water, more efficiently, and empowering them to spend more time on education and other important tasks in the home, and community.
As I have come to understand through this work, whilst access to water remains our greatest challenge, time is still our most precious resource.
So, my primary goal is to help these rural and impoverished communities across the globe improve their access to water through the distribution of Hippo Rollers internationally.
The Hippo Roller technology is appropriate for the challenging and difficult terrain where it is needed. Designed to last many years, its costs are out of reach for those who need it most. For this reason our focus has been on securing sponsorship funding from multiple channels to distribute Hippo Rollers wherever possible.
As a social enterprise we do this by working closely with NGOs, Corporate Social Investment programs, Government departments and other donor organisations and individuals.

Q4. Hippo Roller is such an extraordinary idea and yet so simple! How did the inventors Pettie Petzer and Johan Jonker think of it?
The Hippo Roller was conceptualised in 1991 by Pettie Petzer and Johan Jonker, two South Africans who grew up on farms, experiencing the national water crisis first-hand and witnessing local communities carrying heavy buckets of water on their heads for kilometres every day. With roots in these water-dependent, resource poor environments, JP & Pettie were familiar with the struggle to access water that millions of Africans experience daily.
In particular, JP Jonker noticed that workers on his father's farm were collecting empty 20-litre (5-gallon) plastic containers so that they could use them to fetch their own water. These containers are typically of poor quality and not very durable.
He thought there had to be a better way.
As co-inventor Pettie describes it, the original idea was based on a wheelbarrow including a moulded tank for a low centre of gravity, and in trying to get their concept going, one of the first problems they encountered was the price of the wheel itself. It was the most expensive component.
And it was about then that Pettie had his Eureka moment: "Let's put the water inside the wheel!"
And so the Hippo Water Roller was born. Initially branded the "Aqua Roller", it received its first design award in 1992.

Q5. Would you please describe the product design?
The Hippo Roller is essentially a water transportation drum which gives people the ability to transport 5 times as much water as a regular sized (20 litre) bucket, by simply rolling it on the ground.
It is made from UV stabilized linear low-density polyethylene and designed to cope with the rough surfaces found in rural areas. The drum's volume is 90 litres (about 24 gallons), and it has a large opening (135mm/5.3 inch diameter) for easy filling and cleaning, yet also small enough to prevent toddlers from falling inside.
It has a steel clip-on/clip-off handle which allows the roller to be pushed or pulled over difficult, often rough terrain.
The overall width of the roller with handle attached was determined by measuring the average width of a standard doorway and sized to allow it to be pulled through freely.
The handle is also fitted with special polymer end-caps to reduce friction and wear and prolong the life of the pivot cavities in the drum itself.
The Hippo Roller is rounded at the shoulders to simplify tilting when wanting to pour from a full roller and to assist the elderly to "roll" it into the upright position. It remains very stable when resting on a flat surface, with easy access to the opening.
The roller has hand grips at the bottom and top to make emptying the container easier.
Petzer and Jonker were recognized for the second time for their work on the Hippo Roller in 1997, winning the "Design for Development Award" by the South African Bureau of Standards and its Design Institute, an accolade we're very proud of.

Q6. What advantages does it bring to the community except the obviously easier water supply?
I've said it earlier, but it is worth repeating again: "Time is our most precious resource."
By addressing the difficulty of retrieving water, the Hippo Roller simply buys more time!
And this in turn can be put to more productive use for education, social development and local entrepreneurship.
It goes without saying, that such prospects of increased education in turn give members of the community a measure of independence and skills that allow them to take advantage of economic opportunities.
In short the additional advantages the Hippo Roller brings to the community include:
• time savings;
• reduced strain and effort for that "last mile" haulage;
• flexible infrastructure to access multiple water points (seasonal);
• increased water availability, with benefits for health and food security;
• hygienic water storage in the home;
• improved economic prospects.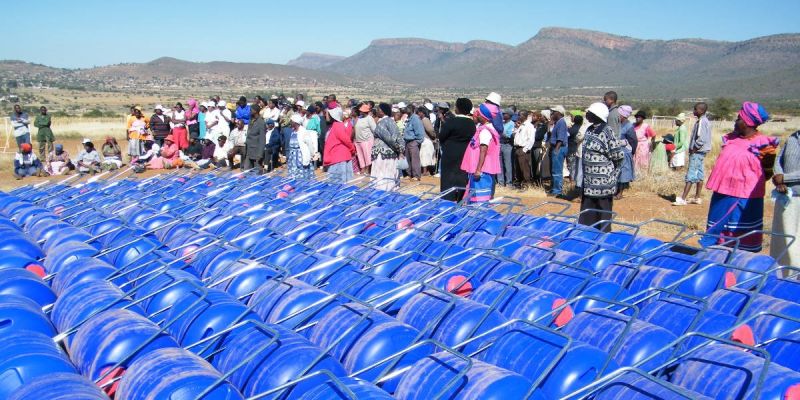 Figure 2: Hippo Rollers being distributed to communities, a disciplined and dignified affair.

Q7. It is impressive and important for the local economy that all the materials from which the Hippo Roller is produced come from Africa. Please elaborate on the materials, durability of the product and how this is achieved.
As mentioned earlier, the body of the Hippo Roller is made from UV stabilized linear low-density polyethylene, the handle from steel, and the end-caps from a special polymer designed to reduce friction and wear and tear, prolonging the life of the pivot cavities in the drum.
Our experience has shown that Hippo Rollers in the field last 5-7 years, sometimes as long as a decade, in spite of their active use in very tough rural conditions.
The fact that we can manufacture locally helps us contain costs, and its longevity makes it an extraordinarily cost-effective solution.
Our plan is to introduce solar rotational manufacturing in sunny countries for a zero-carbon footprint and to reduce transportation (shipping) costs to remote locations. This will also create local employment and support local economies.
Q8. Hippo Roller has been around for more than 2 decades – what are the changes and improvements you have made since the original product?
There have been relatively few changes to the original design of the Hippo Roller, a testament to its simplicity and practicality. It remains a technology absolutely relevant to the needs of the communities it serves.
That said, one of the biggest obstacles to distributing these life-changing devices more broadly has been its price tag, and shipping volume.
Some years ago, we went back to the drawing board, using the pro-bono skills and resources of Engineers Without Borders, to create a new design on the same principles, one that would be easier to transport.
Two teams worked on the project: one focused on reducing cost in any way, and one focused on playing with the inherent design of the device.
Whilst a few solutions were proffered, none really improved on the original design, which is still in use today, 25 years after its inception.
We at Hippo Roller have introduced some minor improvements and have added some optional extra's including the "Utility/Irrigation Cap" and the "Hippo Spaza" for the more entrepreneurial informal traders.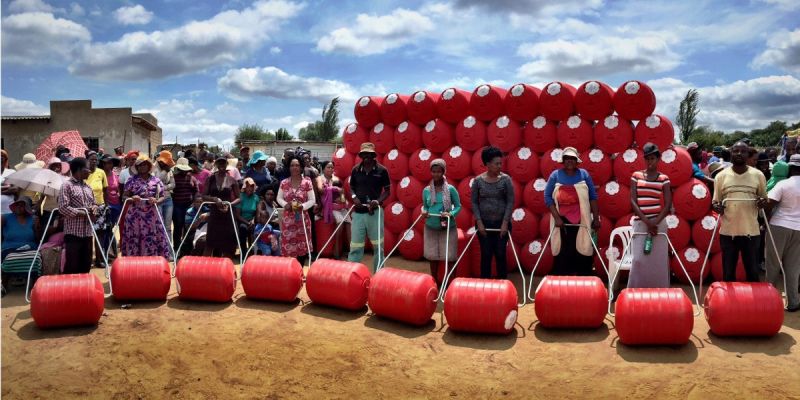 Figure 3: Fundamentally unchanged for 25 years, the Hippo Roller remains relevant and useful.
Q9. How is Hippo Roller accepted in the African communities?
The Hippo Roller is instantly understood and accepted as a far better option for retrieving water, requiring very little explanation or demonstration. Recipients begin to enjoy the benefits immediately.
The impact of the Hippo Roller has been profound. Women, children and the elderly are now able to transport 90 litres (90kg) [24 gallons 200 pounds] of water easily, to provide enough for a family of five people for a day, with a single trip.
It also appears that the male fascination with gadgets is universal. Some men have taken over water fetching duties from their wives because they are proud to be seen using the Hippo Roller.
Nonetheless, our experience has been that it remains important for the community leaders and the community itself to be fully consulted and engaged in the process of introducing the Hippo Roller. There are seldom enough to go around in any given community, and so they are diligently allocated and distributed to the neediest first (women, child-headed homes, the elderly or infirm) by the local community leaders.
In our experience we have discovered that a Hippo Roller is never idle. Often It is shared widely, and works hard, each Hippo Roller potentially meeting the needs of dozens of people. In a recent project in Mozambique, for example, 30 Hippo Rollers are serving the needs of nearly 4,000 people.
This Hippo Roller illustrates perfectly how a product that benefits a developing country requires compatibility with the local environment and cultural standards. It is remarkable how innovative the Hippo Roller's original design thinking was in this respect.
Q10. How do you promote the Hippo Roller since it is mostly needed in extremely rural areas?
Historically, the need has found us. There is no shortage of needy communities.
Over the years, people working closely with rural communities have contacted us. Corporate Social Investment professionals have contacted us.
And we've put the two groups in touch with each other, operating as an innovation partner and providing a conduit for sponsored Hippo Rollers to reach communities in need.
Since the advent of the web, and more recently the social era, we've actively promoted the Hippo Roller via its web presence, a community newsletter, social media platforms (Facebook, Twitter, LinkedIn, YouTube, Pinterest, Google+) and at events across the globe.
The Hippo Roller has been covered by all manner of print, digital, broadcast and social media influencers, all of which have helped keep our profile reasonably high.
This visibility is primarily aimed at the NGOs, Corporate Social Investment professionals, Government departments and other donor organisations and individuals with whom we engage, rather than the communities or recipients themselves.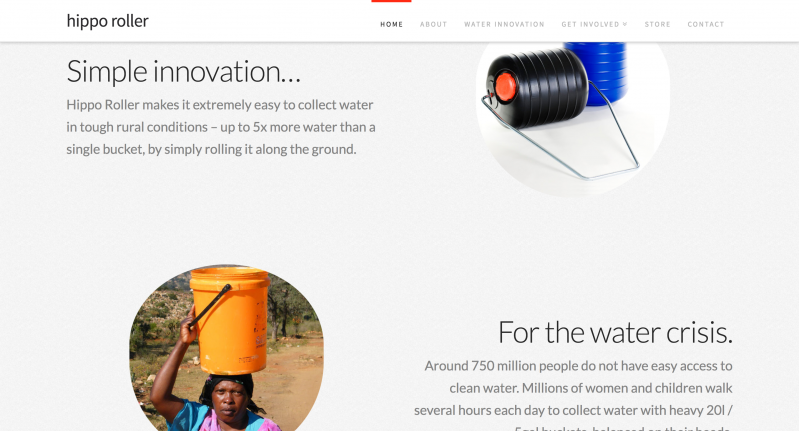 Figure 4: The internet and social era have dramatically raised the profile of the Hippo Roller.

Q11. What future plans do you have for Hippo Roller?
We have set up a Hippo Roller Inc. presence in the US, and have a measure of representation in North America, Europe and Australia. Ideally we would like to set up local manufacturing facilities closer to the countries most in need, as shipping remains the single most costly element of distribution.
We have also investigated the potential of setting up solar-powered Rotational Moulding
manufacturing (zero carbon footprint) plants to cater for manufacturing opportunities closer to the points of demand.
But our primary focus is on partnering appropriately with major corporates, NGOs and Government bodies actively targeting sustainable solutions to water access challenges.
We believe that there is massive scope for micro-financing services to include the Hippo Roller as a "Product with Purpose" and to broaden the business model of Hippo Roller to make it less dependent on conventional fund-raising and donor generosity.
We also think that the world of NGOs and philanthropy will be disrupted by web and/or mobile based innovation, in exactly the same way that the Uber, AirBnb, Amazon, Facebook, Netflix, Apple, Google and others have turned conventional industries upside down. And so we'll be keeping an eye on how these might impact on the sustainability of Hippo Roller.
And on that note (sustainability), we expect Hippo Roller's business model to scale by an order of magnitude in the coming years. It was just last year that Hippo Roller was the recipient of the Frost & Sullivan "2016 African Rural Portable Water Solutions Product Leadership Award", which summarised its own view of our future, like this:
"Since the establishment of the Hippo Water Roller Project in 1994, the company has continued to provide an appropriate portable water solution for economically poor communities across Africa. Leveraging its relationships with sponsors, corporate partners, and NGOs, the Hippo Water Roller Project has established itself as a sustainable initiative that provides African communities with an immediate and winning water and sanitation solution."
One thing we do know is that the problem of water security is not going away!

Q12. What was your most rewarding experience with the Hippo Roller?
There is not one most rewarding experience. Literally each and every recipient of a Hippo Roller glows with pride on receipt of it, the Hippo Rollers are jealously guarded and highly prized possessions, which change the lives of their owners.
That said, they are shared widely within the communities too, and it would be fair to say that a Hippo Roller rarely sits idle. Whilst we don't often get to see the results first hand, stories from all over the world reach us, and it is always incredibly humbling.
Having travelled to more than 15 countries, I have witnessed first-hand the struggle endured on a daily basis and feel absolutely privileged to be helping to change lives through the Hippo Roller, with the support of those who share our cause.
One incident, which really stands out for me took place in South Sudan where I interviewed a teenage girl. I asked why she likes the Hippo Roller so much and she responded without hesitation, "Because now I can look like a city-girl."
She explained that she could not braid her hair to look attractive when carrying heavy buckets of water on her head.
It struck me just how easily we overlook basic human needs such as dignity.

Q13. Finally, how can people help you in your mission of improving the lives of people in rural African areas?
Many current community development initiatives around the world, with a completely different focus from water, can be more effective in the communities they serve just by improving access to water.
Even NGOs which install wells and boreholes could serve a wider territory by including Hippo Rollers from the same borehole.
Water is something that most of us just don't think about. But for millions, it's all they think about, every single day.
A first step to helping would be to visit HippoRoller.org.
Even if you can't donate, please help spread the word.

The Hippo Roller simply works.
Hippo Roller on the web:
https://www.hipporoller.org
https://www.facebook.com/hipporoller
https://twitter.com/HippoRoller
support@hipporoller.org
+278294HIPPO (+27829444776)