In Conversation with Parag Agarwal from JanaJal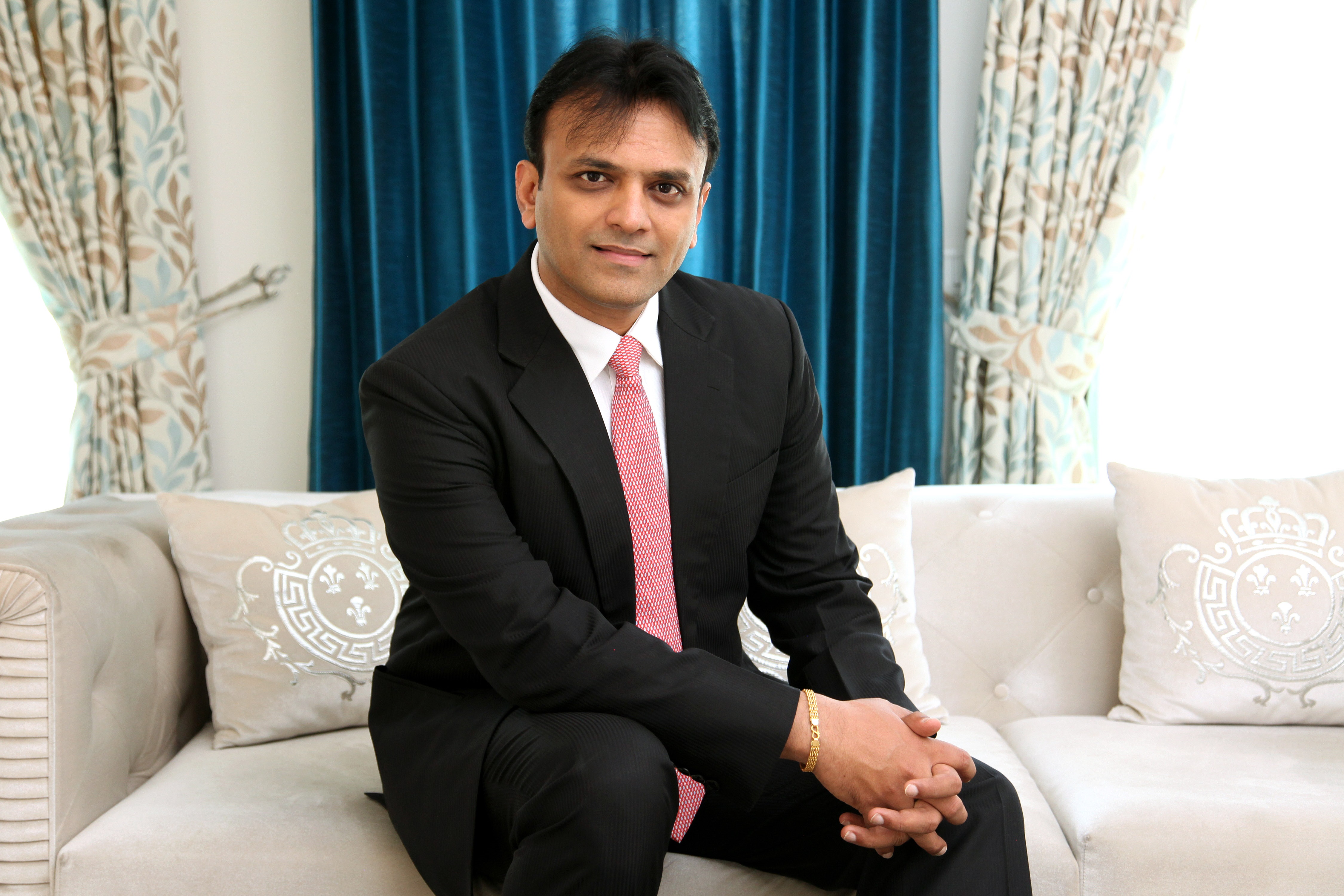 The Water Network had the pleasure of talking to Parag Agarwal, founder and CMD of JanaJal.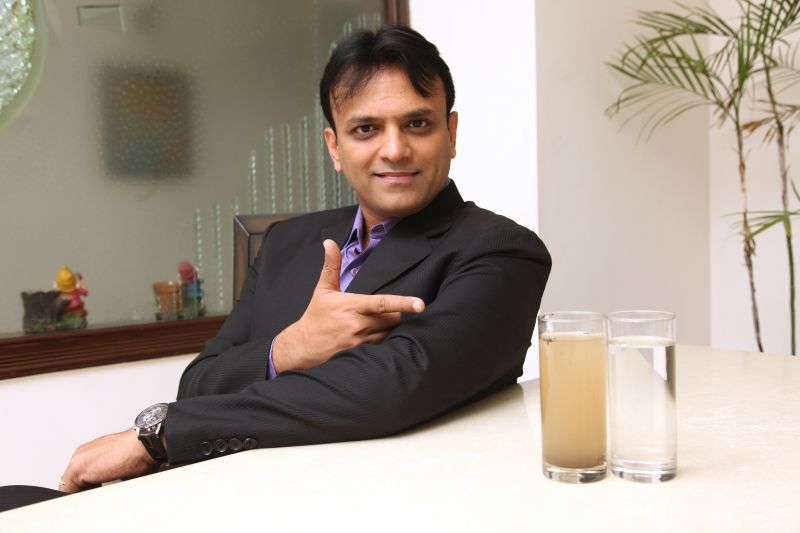 For over 2 decades, Parag has worked with cutting-edge technologies and worked across sectors and geographies to enable their implementation in India.
His global exposure across various industries and sectors focuses on technology-based solutions in Integrated Water and Waste Management, AgriLogistics & Post Harvest Infrastructure, Drinking Water & Sanitation, and Homeland Security.
Parag has extensive experience in Water Management and Water Treatment Technologies. In 2008 he identified water as the next global commodity and the water sector as an area that would yield a huge global infrastructure and services opportunity.
JanaJal has a pan-India presence and has recently commissioned 39 water ATMs with IRCTC and Indian Railways at various stations in the Mumbai region such as Kalyan, Chembur, Lokmanya Tilak Terminus, Mankhurd, Wadala, Dockyard Road upto Khopoli, Lonavala and Igatpuri. Another 60 are expected to be added by November 2017 with Western Railways besides another 150 fixed water ATMs and WOWs in Delhi NCR region by December 2017.

Q1: Thank you for taking the time to talk to us Parag. Could you please tell us about your professional background and how you got interested in providing safe drinking water to people in India?
In 2008, I thought "water" would be the next global commodity and the water sector as an area that would yield a huge global infrastructure and services opportunity. Alarming indicators such as global warming leading to climate change were clearly discernible and the impact on health due to lack of access to clean water were the major drivers of my hypothesis. It was clear that the world was going to have a water scarcity problem. The gap in demand and supply of safe drinking water in India caught my attention early in 2011. I strongly believed that this industry will continue to witness "sunrise" for the next 30 years. The need of the hour was to not only make water available and accessible to all, but to do so in an efficient, robust and sustainable manner. This is when in 2013, JanaJal was formed as a mission to deliver safe drinking water to communities.

Q2: What is JanaJal and which vision does it have?
JanaJal is a private sector initiative that aims to make safe drinking water a reality in the lives of every Indian. The concept of water ATM was developed 5 years ago with the objective of providing sustainability to the activity. The company installs, operates and maintains water ATMs that provide safe drinking water on 24X7 basis to consumers under a unique AAA philosophy which is Availability, Accessibility and Affordability. In addition to safe water, providing social entrepreneurship and gainful employment opportunities to members of the community that are upskilled and trained to conduct themselves as Operators of the water ATMs is an integral part of the JanaJal operating model. Since inception, the company has worked relentlessly to advocate and demonstrate the benefit of water ATMs. It has succeeded in establishing the fact that water ATMs are the first step towards a developed nation and has secured universal acceptance for this concept. The Government of India's thrust on WASH facilities in India through its Swachh Bharat initiative is now being implemented by all local administrative bodies pan India who recognize the benefit of providing this invaluable resource to people. Simultaneously, the aspirational Indian who has unanimously voted for development is now willing to bear a nominal cost for safe drinking water compliant with global quality standards.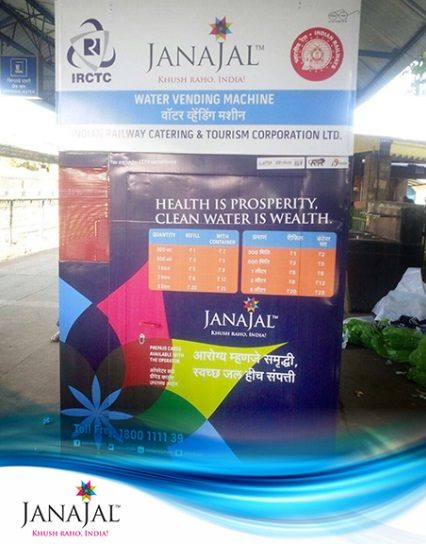 Q3: Which features do the water-dispensing ATMs have and how are they powered?
JanaJal water ATMs are hybrid in nature and operate on regular electricity supply as well as solar power. Every installation has a capacity of upto 20,000 litres per day and serves water chilled and at room temperature. Every system dispenses water in different capacities such as 300 ml, 500 ml, 1 litre, 2 litres, 5 litres and 20 litres which is mainly the offtake of households for meeting their drinking and cooking needs. All the water ATMs are remotely monitored and supervised through a unique cloud based IT system that works in real time and not only provides dispensing data but also system health, purity level of water dispensed and enables controls that allows for smooth functioning of the system.

Q4: How does the ATM's dispensing technology work and how much water is distributed form one ATM per day?
People can walk up to any water ATM and choose to pay using a coin to receive water in the desired quantity. They can also pay the operator using cash currency or use RFID prepaid cards/ key tags which enables cashless transacting. Post demonetization in December 2016, JanaJal water ATMs also receive payments using credit/debit cards through UPI and e-wallets therefore offering a complete user experience besides highest standards of safe drinking water. Systems installed in dense residential colonies and urban slums have recorded dispensing of upto 9000 litres per day while the minimum dispensing at places such as railway stations and bus stands record 1500 litres per day. It is expected that dispensing volumes will grow at 30% YOY given the nascent stage at which this concept is today.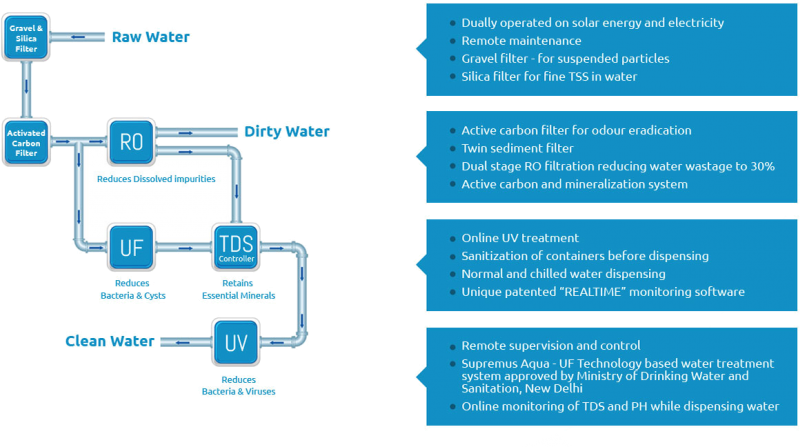 Q5: How do JanaJal ATMs reduce waterborne diseases?
JanaJal's technology agnostic approach to building water ATMs has been its biggest strength in the market place. Only after assessing raw water conditions on every site does the company decide the configuration of the water treatment system that would be deployed to treat the water. Removal of all forms of microbiological contamination in surface water using technologies other than Reverse Osmosis contributes significantly to not only quality of water delivered but also conservation of precious water due to increased efficiency during the treatment process.

Q6: Could you explain what the 3A's stand for and mean?
JanaJal is built on the AAA philosophy which is making water Available, Accessible and Affordable.
Q7: JanaJal has a "technology agnostic approach" – what does that exactly mean and how is water supplied and treated?
JanaJal is a solution and not a product. The company's technology-agnostic approach allows for use of innovative technologies across IT, water treatment and various other aspects of monitoring, supervision and governance that increases efficiency in a qualitative and quantitative manner. Based on the condition and contamination contained in the raw water, JanaJal is always at liberty to use various water treatment technologies or a combination thereof to maximize the results across all levels. Consumers walk upto the water ATM with their own containers to collect water with an assurance of highest standards of purity and hygiene. In a bid to extend their reach, JanaJal is now preparing to launch WOW – Water on Wheels, its mobile water ATM built on a battery operated e-rickshaw that will deliver water into the deepest residential pockets whether in urban or rural areas. While fixed water ATMs are considered as the "last mile connectivity" for delivery, WOW is being considered as the "last metre connectivity" providing the much-needed impetus to accessibility of safe water to one and all.

Q8: Which parameters of the ATM and water it provides are remotely monitored?
Besides dispensing data as per pre-defined SKUs every ATM is monitored for TDS and PH level of water besides system health through a heart-beat monitor, membrane condition and maintenance routines that can be executed remotely from a central control centre.

Q9: What happens to reject water?
Reject water is collected and routed into alternate processes such as gardening, flushing and pot washing. In dense residential colonies, people are encouraged to come and collect this water free of cost for suitable use.

Q10: Could you tell us about the JanaJal Water-on-Wheels?
JanaJal WOW – Water on Wheels is a mobile ATM built on a battery operated e-rickshaw that enables delivery to households located in areas that do not justify the installation of a fixed water ATM. This delivery platform relies heavily on technology as the backbone of its operations and is poised to create a disruptive delivery model in the drinking water sector. JanaJal aspires to create the world's largest PWOD – Potable Water on Demand network in the future and extend its presence beyond Indian shores.

Q11: What sets you apart from other companies which provide clean water?
Traditionally, making clean water available has been considered to be a philanthropic activity often associated with NGOs, charitable/social foundations and religious trusts. However, the need for sustainability in every activity is a non-negotiable aspect of its survival and can only be met by generating profits that are able to absorb their internal cost of operations. JanaJal has been one of the first companies that has not only strived to build sustainability within the drinking water sector but also create a very robust for-profit business model. This has been the biggest differentiator as it allows for the highly qualified and experienced professionals to play a role in execution and operations that leads to greater efficiencies at all levels. One of the highlights of the CSR model and implementation strategy adopted by the company has been minimizing "leakage" of funds into non-related activities and ensuring that 100% of the CSR spending is suitably invested in delivering safe drinking water to people. In a world that needs 350 billion litres of water every day, JanaJal aspires to deliver 1 billion litres per annum by 2018.

Q12: Congratulations on winning multiple impressive awards! Just to mention the most recent ones - Asia Pacific Entrepreneurship Award, Social Enterprises – 2017 And Outstanding Community Water Plants 2017. How do these awards motivate you in your business endeavors?
Our management team takes great pride in the recognition and appreciation that has recently come our way. Every award has not only been the validation of our vision and mission but also builds further pressure upon every member of our team to stay focused and committed to the cause of safe water for all. Right to Water is as fundamental to human life as is Information, Education and Healthcare and we at JanaJal sincerely believe that we can and will make a difference to the world.

Q13: Are you looking for partners? What are the future plans for JanaJal?
The fundamental ethos behind JanaJal is its ability to adapt and adopt various technologies across different levels of its operations and work with companies, organisations, SHGs, NGOs and foundations in a seamless manner as long as everyone bears a shared vision. Our technology agnostic approach enables the opportunity for one and all to reach out to us and work inclusively within their own limitations and capabilities. The company is already considered as an ideal "go to market vehicle" by several companies who wish to foray into India and we welcome an outreach from their side.

Q14: Finally, do you have a take-home message for The Water Network's ' aquapreneurs ' who want to have a social impact with their business model?
My message for every aquapreneur would be to focus on building an inclusive operating model that is a win-win for all stakeholders at every level. A business that touches the common man's life becomes a movement. Finally, never disregard sustainability for the sake of profit or short-term gains.