Interview with Stuart Orr from WWF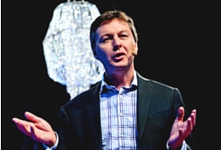 The Water Network Team had a great time talking with Stuart Orr of WWF. Stuart has been with WWF since 2006 and works with the private sector on a range of water-related activities, from water footprint to public policy engagement. He gave us some insight on what WWF is doing right now regarding water issues. He provides us with some great advice when approaching major challenges in motivating companies to do more for water conservation.
We also touched subjects like water stewardship, water footprint, drought issues and similar.
1. What are the water stewardship activities at WWF?
We have a large programme now that deals on an influence and implement strategy. On the influence side, we have produced a number of reports and studies that outline water risk, tools, policy and strategy perspectives. We also engage with many companies and business associations, speak at a lot of conferences, have been involved in developing risk tools, valuation tools and also supporting standards such as the AWS. On the implement side, we have a number of teams in river basins around the world engaging with business and government around shared water challenges and promoting and supporting basin dialogues, business cases for action, clean tech solutions and collective action.

2. How do you motivate companies to participate in water conservation?
Mainly through making the business case. We don't actually engage them on conservation as much as water governance. We don't expect companies to just do philanthropic conservation – we're more interested in long term business risk and opportunity and our meaningful engagements on things that really matter to us – governance and management of water bodies.

3. Do you have tie ups with companies/organizations that use fair trade labels and other types of eco-labels to promote companies to participate in water conservation?
Not really. There are some groups seeking to do product labelling and green schemes of some sort. The only aspect of our work that touches this is the AWS standard. And yet again, were not so much interested in the claims companies make here but the actions.

4. How does WWF participate in dealing with climate change driven issues like severe drought or floods that can have long-term impacts on the ecosystem of that area? For eg, the Californian drought, or the drought in Brazil?
Drought situations, of course, have multiple impacts. In both cases, the impact on ecosystems and business can be high. But in the California case the solutions are very hard to achieve and easy to misdiagnose. Understanding local issues is more than just the resource availability though as water management is impacted by many situations that could be averted. California may look like climate drought, but it's as much about poor allocation policy as it is drought.
5. Can you share some success stories/case studies of some of the stewardship activities at WWF involving big companies?
First it's not just big companies that matter. Big companies are vocal on water, but stewardship successes are usually done by SMEs or company suppliers. But there are many examples of big and small where their risk has helped facilitate a better discussion with decision makers around solving shared problems. We have clean tech successes in Pakistan, collective action success in Kenya and Zambia, dialogue that has challenged so many perceptions in China etc.

6. Do you have different schemes and ideas to deal with SMEs versus big companies?
Yes, as SMEs are usually at the sharp end of these risks and often have greater incentives. In many ways, a collection of SMEs can drive greater success than a big company forcing sustainability down the supply chain. It all matters where and what sector. But generally we work with SMEs through local business associations and at smaller catchment scale
7. How do you deal with the complex interconnection between water-food-energy nexus and link it with impacts on the ecosystem?
Pretty much all of our water work is framed around these perspectives. It may seem a new concept, but I cannot think of an intervention or programme we engage where these aspects are not in play. And in that context, it all matters about the policy options and rules that govern wherever we are, the priorities of government and local stakeholders etc. But to be clear we rarely deal with these issues in an efficiency sense – much more about landscape management and policy around resource allocation.

8. Among the different types of water footprint, namely green, grey, blue; which is the most challenging to track and why?
To be honest, we don't track WF's. We have used WF over the years and see where it can and cannot be useful. It can help many companies understand dependency and lead to risk assessments but tracking total water use is not necessarily that useful for what we are trying to achieve.
9. What are your major challenges in motivating companies to do more for water conservation?
The challenges are often moving the companies that identify high risk to act accordingly. Too many are setting poor targets and activating strategies that fail to address their risks. There are lots of reasons for this, but the chief one is that it's a different and often confusing world out there engaging with stakeholders over long periods of time and sometimes with little to show for it. While water management, strong policy and overall governance are key risk-reducing areas, they are hard to processes and often beyond the appetite of most companies. It takes time to get companies to come along that journey but when it does happen you can get results. But it is becoming easier all the time to make the business case for water and give business the right arguments to invest in longer term aspects of water stewardship.

10. What are the next steps in WWF's water stewardship activities?
We will commence the debate and grow our programmes. We are doing more work on our water risk filter as well as on water valuation. On the implementation side, we are growing our relationships with companies and identifying stronger strategic approaches to basins where we work.

11. What is your message for water network's members who are involved in water stewardship activities?
Take the time to read what is out there on the subject. Companies have learned a lot over the last decade and the tools are there for you to assess risk and develop a strong strategy. Take your time, build the right tools, incentives and strategy internally and don't fall victim to greenwashing. Here's a booklet to get you started.