LG Sonic Solves Algal Problems in a Dubai Irrigation Reservoir (Case Study)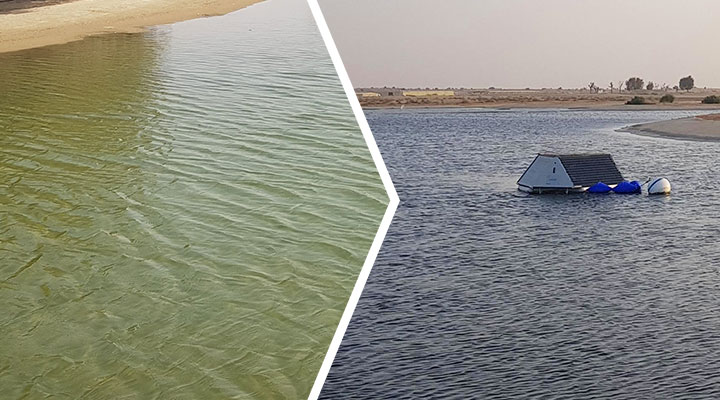 In August 2018, LG Sonic in collaboration with the Dubai Municipality began a new project to control algal blooms in the Al Qudra lakes.
The lakes were created by the municipality as part of a project to enrich this part of the Dubai desert and now the officials have selected LG Sonic's MPC-Buoy systems to control algal blooms due to our chemical-free technology and real-time water quality monitoring capabilities. The project has been a great success, with massive improvements in water quality.
Massive improvement in water quality
The lake, which is used for irrigation purposes, was suffering from severe algae growth. The entire surface was covered with dark green filamentous algae mats. In irrigation reservoirs, algal blooms cause problems by clogging the pumps and nozzles used to irrigate crops and nurseries. 60 days after installation, the chlorophyll-a concentrations of two irrigation reservoirs at the same site were compared. One irrigation reservoir was treated with the MPC-Buoy while the other reservoir remained untreated. The images below show the massive improvement in water quality produced by the MPC-Buoy treatment of algal blooms.
Read more on the MPC-Buoy technology and its benefits on the link below.