Removing of Iron and Manganese from Water with SaferEx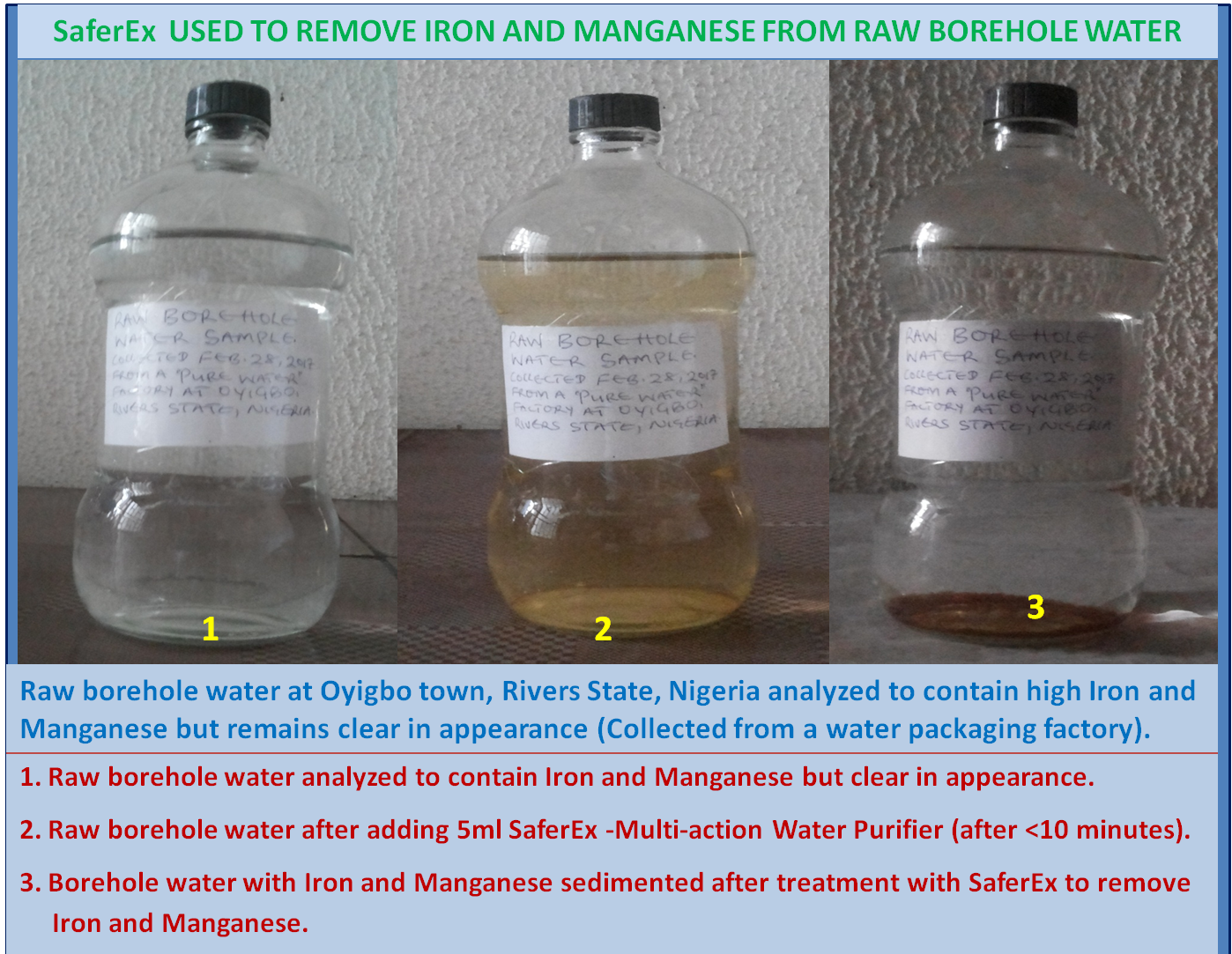 REMOVAL OF IRON AND MANGANESE FROM WATER BY USING SaferEx .
Iron and Manganese become visible in water when oxidized. Iron turns white, then yellow and finally red-brown solid particles form that settle out of the water. Iron oxide particles may not settle out and can impart the water with a red tint.
Oxidized forms of manganese usually remain dissolved in water, giving it a black tint. These chemical change forms of iron and manganese are responsible for the staining properties of aquifer waters containing high concentrations of these elements.
REASONS WHY IRON AND MANGANESE SHOULD BE REMOVED FROM WATER (BAD EFFECTS OF IRON AND MANGANESE IN WATER).
(1). Iron will cause reddish-brown staining of laundry, porcelain, dishes, utensils and even glassware.
(2). Manganese causes a brownish-black stain.
(3). Soaps and detergents do not remove these stains, and use of chlorine bleach intensifies the stains.
(4). In rare occasions, the addition of laundry bleach to manganese-rich water may turn the water purple due to the formation of permanganate ions.
(5). Deposits of iron and manganese can build up in pipelines, pressure tanks, water heaters and water softeners. This reduces the available quantity and pressure of the water supply.
(6). Iron and manganese can affect the flavor and color of food and water. They may react with tannins in coffee, tea and some alcoholic beverages to produce a black sludge, which affects both taste and appearance.
(7). Iron or manganese bacteria is problem that frequently results from iron or manganese in water. These non-pathogenic (non-health threatening) bacteria feed on iron and manganese in water, forming red-brown (iron) or black-brown (manganese) slime, often detected in toilet tanks, and can clog water systems. In addition, a "foul" odor can be produced.
REMOVAL OF IRON AND MANGANESE FROM WATER USING SaferEx - MULTI-ACTION WATER PURIFIER.
(1). Simple household and small scale treatment in containers/vessels.
Mix 5ml of SaferEx with 20 litres of the unsafe water or
1 part SaferEx for 1000 parts of water for high contamination.
Drop or add into empty container then pour in the unsafe water (where stirring may be difficult).
Cover and ensure proper mixing by stirring or shaking. There will be a noticeable characteristic colour change.
Allow to stay still for about 1- 6 hours for full noticeable sedimentation and clarification (duration determined by contaminant level)
Pour off (Decant) or filter the top clear water part and dispose of the bottom properly.
Keep filtered clear water covered for drinking and other uses.
(2). MEDIUM AND LARGE SCALE TREATMENT FACILITY.
In an installed water treatment facility for medium scale treatment, add 1 part SaferEx to 1000 parts of water to the mixing or raw water tank, mix properly and simply allow to pass through the filtration systems and store in the treated water tank for use.
POTENTIAL HEALTH EFFECTS OF IRON AND MANGANESE IN DRINKING WATER
Iron and Manganese in drinking water are not considered health hazards. In addition, iron and manganese bacteria are not known to present a health risk.
ACCEPTABLE/MAXIMUM CONTAMINANT LEVEL STANDARDS FOR IRON AND MANGANESE.
Iron and Manganese are both classified under the Secondary Maximum Contaminant Level standards, which are based on aesthetic factors such as color and staining properties of water rather than health effects. The standard in drinking water is 0.3 milligrams per liter (mg/l) for iron, sometimes expressed as 0.3 parts per million (ppm), and 0.05 mg/l (ppm) for manganese. Secondary standards are guidelines and are not enforced.
WHEN TO TEST FOR IRON AND MANGANESE.
Apart from the routine monthly or quarterly water check/analysis and monitoring, consumers wanting to know the concentration of dissolved iron and/or manganese in a private water supply will need to have the water tested. If foul odor (not a rotten egg smell) and a red or black slime layer are found in places like the toilet bowl or reservoir, then individuals should request to have water tested for iron and manganese bacteria.
Read more about SaferEx: https://drive.google.com/file/d/0B5vq4wO9sNRoRjJTUU9JVjRjQVU/view?usp=sharing
Presentation by: Engr. Chinenye Justin Nwaogwugwu, MNSE - A registered Chemical Engineer with passion in manufacturing innovative chemical solutions for the benefit of mankind.
Managing Director/Founder: Macjames Global Resources Limited and Macjames Ikiomoye Technologies Limited - innovators and manufacturers of SaferEx - Multi-action Water Purifier.
Contacts: www.macjamesglobal.com I chemicalinfo@macjamesglobal.com I +234 818 959 6273.
P.S:
Recognition of SaferEx - Multi-action Water Purifier:
2016: Selected among top 1000 innovations in Africa, from 54 African Countries, by TEEP 2016.
2016: Winner, Unilever Foundry ideas "Clean Water Challenge", 2016 . (https://cleanwaterchallenge.ideas.unilever.com/Page/Home)
2016: Qualified in the "Create the Future Design Contest 2016" by COMSOL and Mouser Electronics, U.S.A. (http://contest.techbriefs.com/2016/entries/consumer-products/6350)