Ganga will be cleaned and rejuvenated by July 2018 - Minister Of Water Resources assures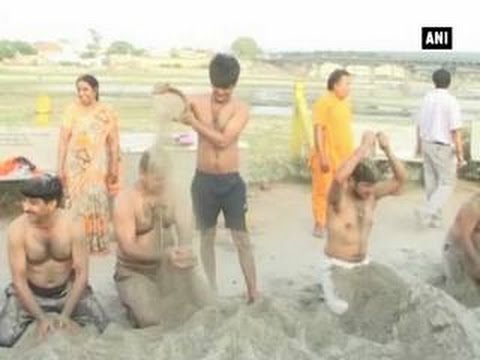 On 30 May 2018, at Agra, River activists organised "Sand Bath" to draw attention towards lack of water in the Yamuna river and green insect threat to the Taj Mahal.
On 28 April 2018, in Loksabha, responding to a series of supplementaries during Question Hour, Water Resources Minister Uma Bharti said she would announce in the House in July 2018 that the river has been cleaned and rejuvenated.
Either Honorable Minister does not know her job or making the people of India , a fool. How Ganga can be cleaned without releasing more water as per prescribed norms in it and its tributaries like Yamuna , in dry season and also in remaining period of the year, which is possible only if the use of water in agriculture sector is drastically reduced. MoWR has no plan to do it. Therefore Ganga can not be cleaned till this is done, whatever MoWR , GoI claim and assure. It is a great question mark why the Honourable Minister is playing with the sentiments of people of India raising hopes for cleaning and rejuvenating Ganga, which is not possible in near future, with present strategy.