Enhancing the available water content in unsaturated soil zone using hydrogel,improve plant growth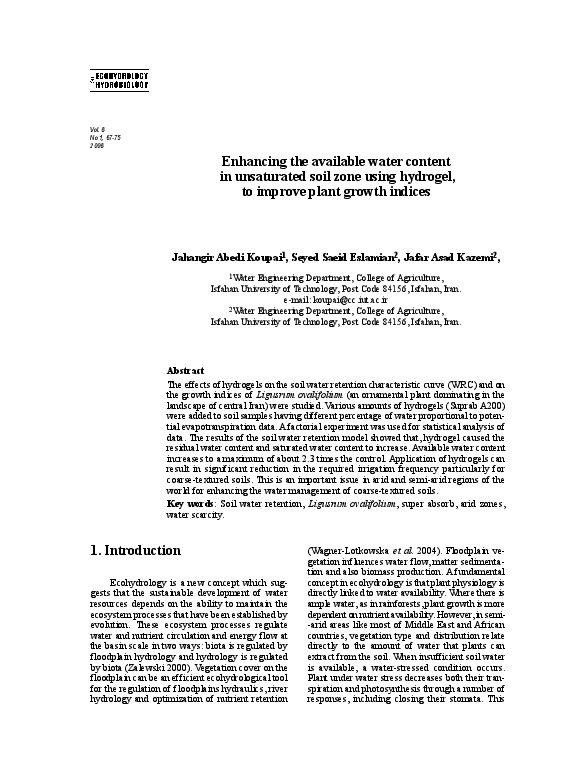 Jahangir Abedi Koupai, Seyed Saeid Eslamian, Jafar Asad Kazemi,
Abstract The effects of hydrogels on the soil water retention characteristic curve (WRC) and on the growth indices of Ligusrum ovalifolium (an ornamental plant dominating in the landscape of central Iran) were studied. Various amounts of hydrogels (Suprab A200) were added to soil samples having different percentage of water proportional to potential evapotranspiration data. A factorial experiment was used for statistical analysis of data. The results of the soil water retention model showed that, hydrogel caused the residual water content and saturated water content to increase. Available water content increases to a maximum of about 2.3 times the control. Application of hydrogels can result in significant reduction in the required irrigation frequency particularly for coarse-textured soils. This is an important issue in arid and semi-arid regions of the world for enhancing the water management of coarse-textured soils. Key words: Soil water retention, Ligusrum ovalifolium, super absorb, arid zones, water scarcity. 1. Introduction Ecohydrology is a new concept which suggests that the sustainable development of water resources depends on the ability to maintain the ecosystem processes that have been established by evolution. These ecosystem processes regulate water and nutrient circulation and energy flow at the basin scale in two ways: biota is regulated by floodplain hydrology and hydrology is regulated by biota (Zalewski 2000). Vegetation cover on the floodplain can be an efficient ecohydrological tool for the regulation of floodplains hydraulics, river hydrology and optimization of nutrient retention (Wagner-Lotkowska et al. 2004). Floodplain vegetation influences water flow, matter sedimentation and also biomass production. A fundamental concept in ecohydrology is that plant physiology is directly linked to water availability. Where there is ample water, as in rainforests, plant growth is more dependent on nutrient availability. However, in semi- -arid areas like most of Middle East and African countries, vegetation type and distribution relate directly to the amount of water that plants can extract from the soil. When insufficient soil water is available, a water-stressed condition occurs. Plant under water stress decreases both their transpiration and photosynthesis through a number of responses, including closing their stomata. .