Improving the Quality of Secondary Wastewater for Indirect Potable Reuse - Mazzei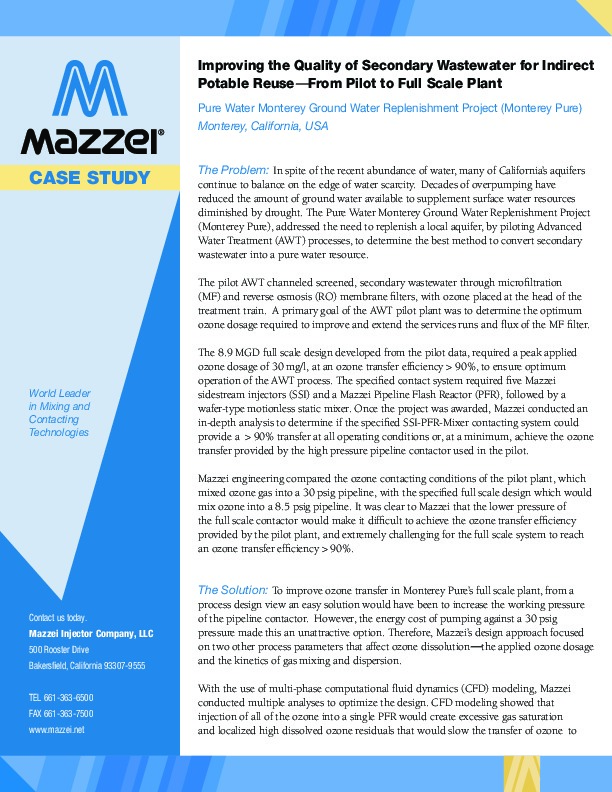 Improving the Quality of Secondary Wastewater for Indirect Potable Reuse — From Pilot to Full Scale Plan
Case Study by Mazzei


Image Source: Photo from the Case Study, Credits: Mazzei
In short
The Problem : In spite of the recent abundance of water, many of California's aquifers continue to balance on the edge of water scarcity. Decades of overpumping have reduced the amount of ground water available to supplement surface water resources diminished by drought.
The Pure Water Monterey Ground Water Replenishment Project (Monterey Pure), addressed the need to replenish a local aquifer, by piloting Advanced Water Treatment (AWT) processes, to determine the best method to convert secondary wastewater into a pure water resource.
***
The Solution : To improve ozone transfer in Monterey Pure's full scale plant, from a process design view an easy solution would have been to increase the working pressure of the pipeline contactor. However, the energy cost of pumping against a 30 psig pressure made this an unattractive option. Therefore, Mazzei's design approach focused on two other process parameters that affect ozone dissolution—the applied ozone dosage and the kinetics of gas mixing and dispersion.
***
Find the Full Case Study in the Attachment or visit MAZZEI