Sensor Networks for Monitoring and Control of Water Distribution Systems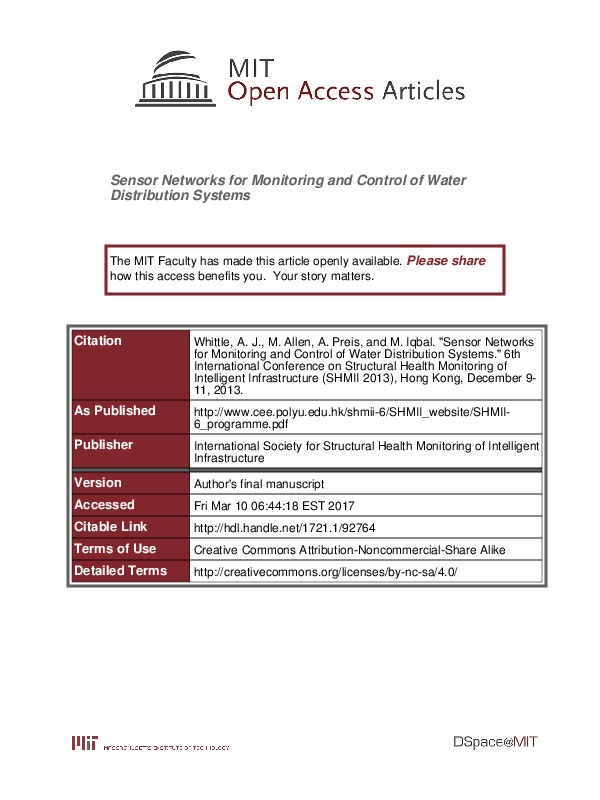 Author : Whittle, A. J.; Allen, M.; Preis, A.; Iqbal, M.
Department: Massachusetts Institute of Technology. Department of Civil and Environmental Engineering
Publisher: International Society for Structural Health Monitoring of Intelligent Infrastructure
Date Issued: 2013-12
Abstract:
Water distribution systems present a significant challenge for structural monitoring. They comprise a complex network of pipelines buried underground that are relatively inaccessible. Maintaining the integrity of these networks is vital for providing clean drinking water to the general public. There is a need for in-situ, on-line monitoring of water distribution systems in order to facilitate efficient management and operation. In particular, it is important to detect and localize pipe failures soon after they occur, and pre-emptively identify 'hotspots', or areas of the distribution network that are more likely to be susceptible to structural failure. These capabilities are vital for reducing the time taken to identify and repair failures and hence, mitigating impacts on water supply. WaterWiSe is a platform that manages and analyses data from a network of intelligent wireless sensor nodes, continuously monitoring hydraulic, acoustic and water quality parameters. WaterWiSe supports many applications including dynamic prediction of water demand and hydraulic state, online detection of events such as pipe bursts, and data mining for identification of longer-term trends. This paper describes the WaterWiSe@SG project in Singapore, focusing on the use of WaterWiSe as a tool for monitoring, detecting and predicting abnormal events that may be indicative of structural pipe failures, such as bursts or leaks.