3rd INDIA WATER FORUM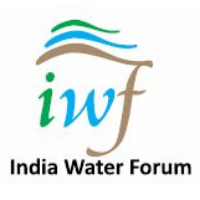 3rd INDIA WATER FORUM
Considering the interlinkage between water security and economic prosperity of the country, the 3rd India Water Forum is being organized in April 2016 with the theme 'Water for Sustainability: Towards Development and Prosperity'. The conference is structured into 6 panel discussions, spread over three days, focusing on specific themes, besides the inaugural and valedictory session.
Cleaning Ganga and its role in economic development
Swachh Bharat Abhiyan: A model for social empowerment
BACKGROUND
The Energy and Resources Institute (TERI) in association with the Ministry of Water Resources, River Development & Ganga Rejuvenation, Government of India, organizes India Water Forum (IWF), an international water convention to attract diverse perspectives on the issues related to ensuring water security for billions of people in India and south Asia. 1st India Water Forum organized in April 2011, focused on various issues related to dynamics of water in the purview of climate change impacts in the region. 2nd India Water Forum organized in October 2013, attracted rich deliberations on aspects related to water use efficiency, to develop a consensual understanding on water use management. With a broad aim of sharing knowledge and wisdom on better water management to attain sustainability, India Water Forum has been successful in providing a multi-dimensional platform for experts like policy makers, industrialists, academicians, researchers, and social and community organizations.
Important Dates:
Early bird registration: 20 February 2016
Last date for registration: 15 April 2016