In Conversation with Ravid Levy from Fluence Corporation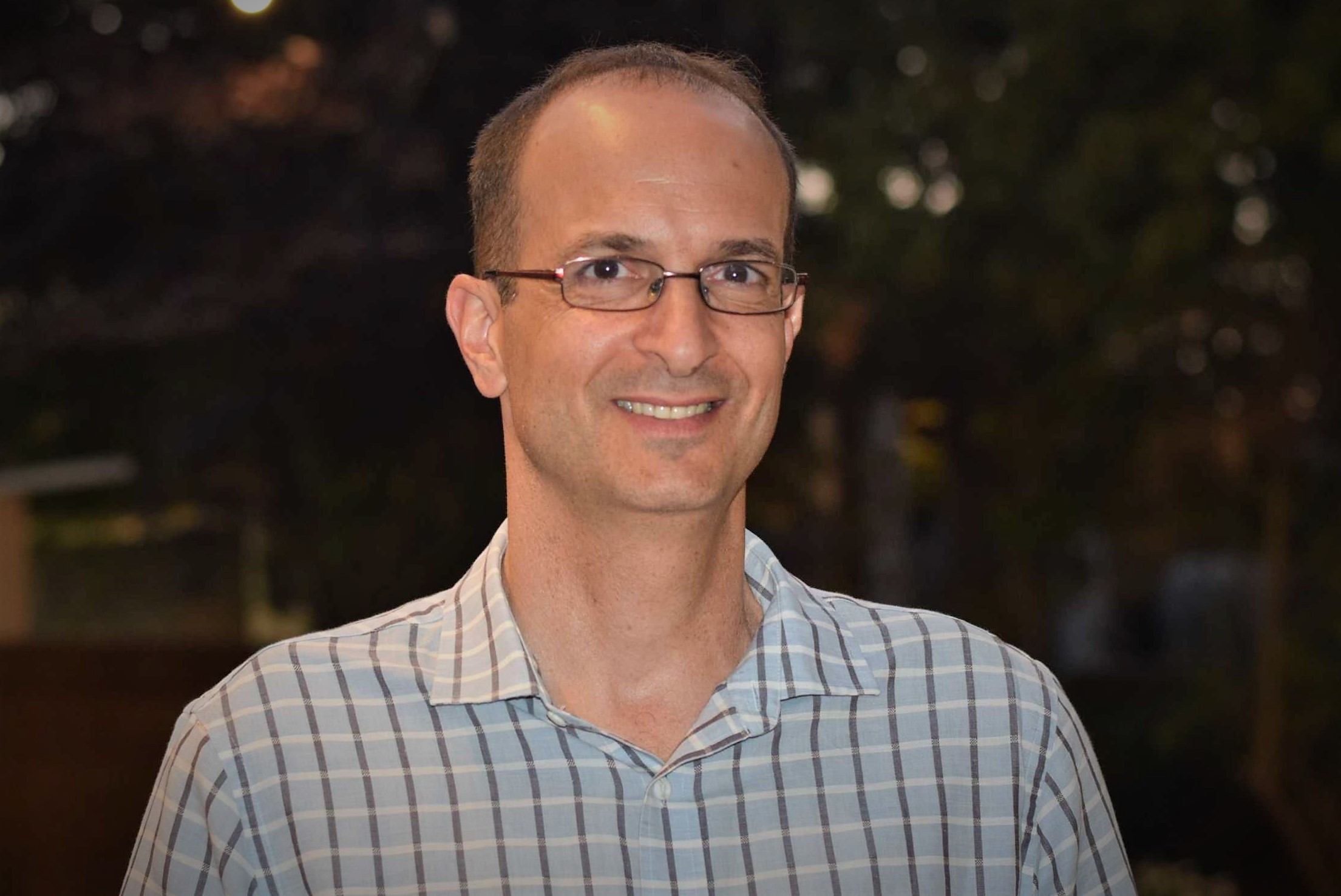 The Water Network team had the pleasure to interview Ravid Levy, VP Technology Fluence Israel.
Mr. Ravid Levy leads the R&D and innovation activities including the adoption and development of new water technologies, products and applications & IP management. He works together with the product management, engineering, and supply chain organizations to maximize growth through new product introductions and technology initiatives.
Prior to assuming his current role in Fluence, Ravid served as CTO for RWL Water for over 5 years. Ravid joined RWL Water in 2001 and since then held technology leadership roles of increasing responsibility, including engineering department manager and regional manager for the company's subsidiary in Australia with responsibility for water-treatment and desalination markets throughout Australia & the Pacific.
Mr. Levy has over 20 years' experience in water treatment, separation technologies, desalination, membranes technologies and wastewater reuse technologies. He is also a member of IDA's Technical Program Committee.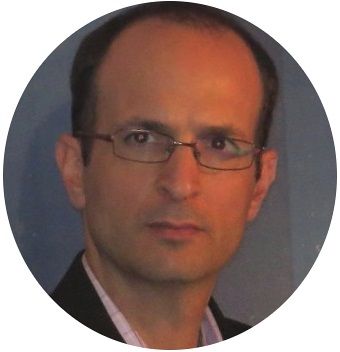 Q1: Thank you for taking the time to talk to us, Ravid. Would you please start by telling us a bit about your professional background?
I have two academic degrees in environmental biology and have been working for the last 15 years in the water treatment industry, in both technical & commercial roles.
During these years I have been based in both Israel and Australia and have had the chance to work on projects globally.
In my current position, I focus on innovation, products development and integration of advanced membrane technologies for water desalination and wastewater reuse.

Q2: What was the motivation behind merging RWL Water and Emefcy to create Fluence Corporation and how will this help advance your technologies?
Emefcy developed and patented innovative MABR technology for wastewater treatment. RWL Water brought decades of experience in design, engineering, integration and implementation of water and wastewater treatment projects, as well as international presence.
The synergy was obvious between a new technology and the capabilities required for engineering, selling and deploying it globally.

Q3: What are full-service water solutions comprised of?
Fluence is an organization with the technologies and knowhow to treat a wide variety of water and wastewater challenges in a range of applications, combined with the ability to manufacture and deliver them in various markets.
Add to this the capacity to finance BOT projects and to provide O&M services to clients, we are a truly integrated solutions provider for water and wastewater.
We offer both industries and municipalities desalination, process water, wastewater treatment and reuse solutions, at various scales.

Q4: Fluence is a worldwide leader when it comes to technologies for mid-sized projects. Would you please explain the advantages of your technologies and application for such projects?
We identified the mid-size market as being a bit neglected when it comes to advanced water and wastewater solutions. The large-scale projects and small units' markets are well developed and very competitive. However, mid-size plants often fall between the cracks- the tailored-project approach is too slow and expensive for these applications, while there are no modular systems ready for scale-up to these capacities.
We created the Nirobox™ line, combining the best of both worlds- advanced design and technologies, packed in containers that are pre-designed for scaling into mid-size plants. To complement this, we're working on smart operations for desalination plants, a cloud-based monitoring and control system that will significantly boost desalination plants performance.
We currently supply mid-size Nirobox plants at a fraction of the time and cost compared to traditional deployment. We believe the future of the water and wastewater market is in decentralized smart systems.
Q5: Fluence recognized China as a promising market for decentralized wastewater treatment technologies. Which benefits do decentralized technologies bring to rural areas?
By treating the wastewater locally, we eliminate the need to deploy long reticulation lines for delivering it over large distances to a large central wastewater treatment plant. Our MABR technology can provide Class 1A effluent standards at low operation and energy cost in small and mid-sized units. These are perfect for the thousands of rural locations around China and other countries.

Q6: How scalable are the technologies which Fluence provides and how does their environmental footprint compare to big water treatment plants?
Our Nirobox systems provide 1-50 MLD of sea or brackish water reverse osmosis desalination, and even higher capacities for fresh water filtration solutions, in a pre-engineered, containerized design. The scale-up and future upgrade of the Nirobox-based plants is quite simple and requires very little site work. We're developing similar solutions for decentralized wastewater treatment and reuse with our MABR technology.


Q7: Fluence provides custom-designed solutions which cover all the segments of water and wastewater treatment needs. Would you please explain how such a custom-designed solution is created, describing the parameters taken into consideration and the design process itself, giving an example of a technology you are proud of?
Besides the Nirobox packaged approach we also specialize in tailored project delivery for selected industrial and municipal applications. In these cases, we first carefully investigate the problem and the client's needs. Then we select the most appropriate technologies from the market that will best serve the challenge and the specific requirements of the client.
In some cases, we run lab and pilot tests to confirm the technology selection, verify the process and quantify CAPEX and OPEX. Then we engineer the project, supply the equipment and supervise erection on site.
Finally, we commission the plant and if required also provide O&M services, all based on client needs and limitations. We specialize in integrated membrane technologies such as UF, RO and CEDI, but we often also use various filters, DAF, IX and disinfection technologies to complete the required process.

Q8: NIROBOX is one of your technologies that stands out. Could you tell us in detail about this containerized "plug and play" desalination plant?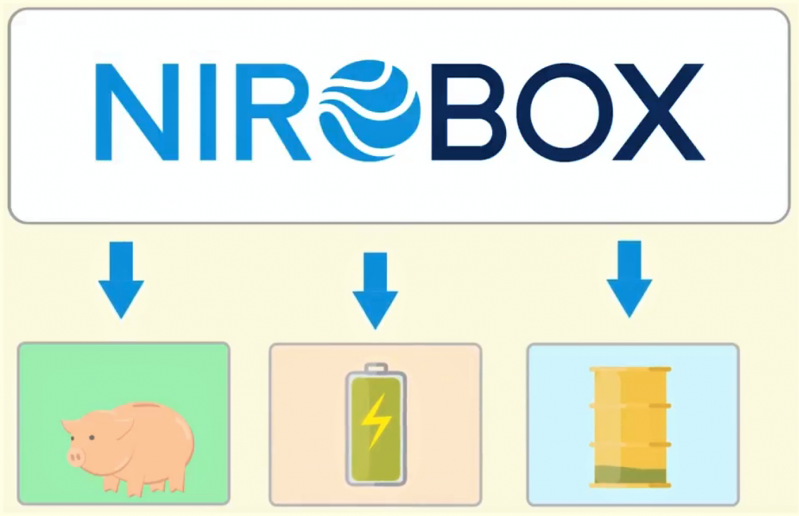 The Nirobox concept is to pack our best-in-class membrane technologies into containers in the most space and cost-efficient way. This allows us to rapidly deliver a package plant, with minimal site work & civil engineering, anywhere in the world.
Despite being containerized and modular, the Nirobox-based plant delivers treated water at the reliability and cost that are comparable, and often superior, to conventionally built plants at similar scales. For example, our Nirobox-SW models, that desalinate seawater into potable or process water, can be deployed on site in 4-8 months compared to almost twice this time for regular desalination plant.
Our engineers designed these units for up to 1,500 m3/day of RO product per container, including pre-treatment and all accessories. We believe it's the most space-efficient SW desal unit on the market. Nirobox-SW delivers potable water at a competitive cost and low energy by using state-of-the-art UF pre-treatment, RO membranes and energy recovery systems.
We designed these systems for minimal use of chemicals & energy by implementing patent-pending innovations for membrane cleaning and process integration. Also, the footprint of such a plant is a fraction of what would be required otherwise.
We also offer brackish water Nirobox units for up to 2,000 m3/day per container, and fresh water systems with UF membranes up to 7,500 m3/day per container. All models include advanced automation and control systems with remote cloud-based monitoring systems.
We believe Nirobox is the most cost-effective and flexible containerized systems family on the market today, and we are constantly working to make it even better.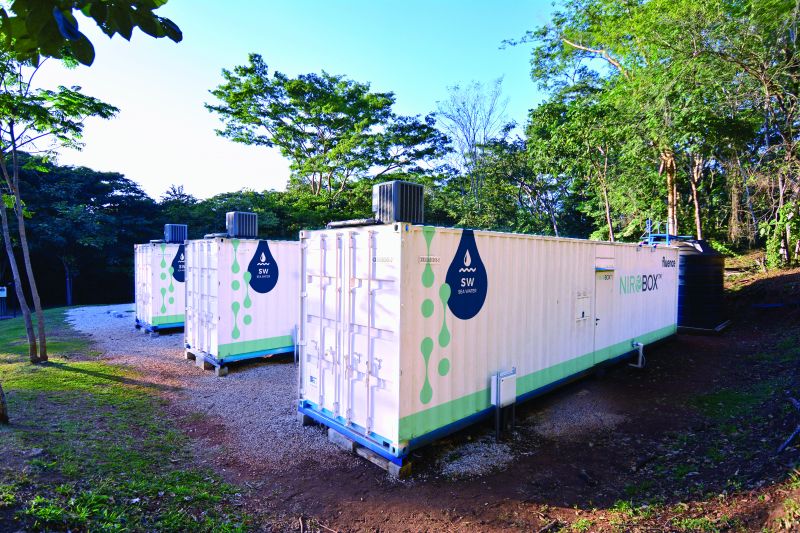 Q9: MABR technology saves the incredible 90% energy in comparison to conventional treatment plants. Please elaborate on the Fluence's MABR technology and how you managed to achieve to reduce the energy consumption that much?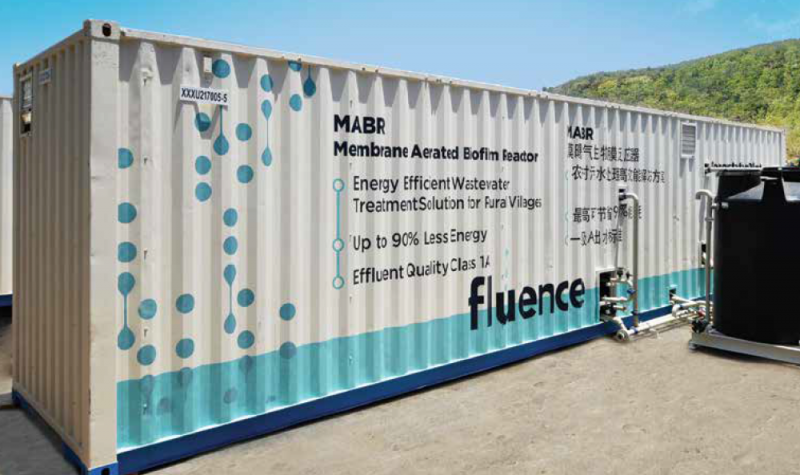 MABR is indeed a ground-breaking technology for wastewater treatment, combining the efficiency of membrane aeration and the power of biofilm reactors for nitrification and de-nitrification in a single tank. The technology, pioneered by Emefcy and integrated by Fluence is being developed into several products that will serve a variety of markets globally.
We believe that MABR can significantly improve the nitrogen removal performance of existing wastewater treatment plants while saving on the energy needed for aeration, at a smaller footprint.
In MABR, the oxygen is supplied by diffusion through specialized membranes directly to the biofilm that performs nitrification, while de-nitrification occurs in the surrounding MLSS. This makes the process much more efficient compared to normal diffuser aeration with suspended sludge. It is especially suitable and competitive in places where discharge standards are strict and power cost is high.
Our MABR units are engineered to maximize oxygen delivery efficiency and membrane surface, which lends itself to compact de-centralized wastewater treatment and reuse plants.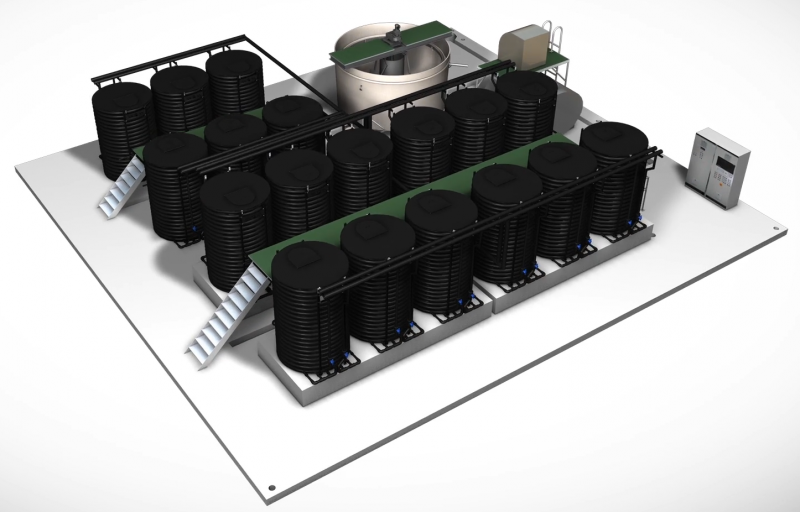 Q10: We would love to know more about how you utilize the technologies to help your customers save money by providing waste-to-energy solutions, recycling and reusing water, etc. It would be fantastic if you could give a couple of examples of such technologies and explain how they function.
Treatment and reuse of wastewater have the potential of both saving water and discharge costs, and in some cases can also to produce energy.
Our waste-to-energy technology enables the efficient treatment of concentrated organic wastewater (for example, from food and beverage and agricultural industries), while allowing safe effluent discharge.
The anaerobic process produces biogas which can be turned into electric power or steam. We have supplied it to several food factories and breweries in Europe, paper mills in the U.S. and fisheries in Latin America.
When combined with other treatment technologies it can result in an energy-positive reuse facility that can save cost and even produce income for our clients.

Q11: What are the future plans for Fluence in terms of innovation and new products development?
We have ambitious plans on several fronts: We are taking the MABR technology into larger-scale applications by adapting it for submersion in open basins, for both green-field and retrofit municipal wastewater treatment plants. We're also working on an integrated modular and containerized MABR-based wastewater treatment plant.
In parallel, we're broadening our Nirobox range of products to cover a variety of water sources (sea, brackish, surface) and applications (potable, reuse, process), at higher capacities.
We're constantly searching for innovative technologies that can efficiently treat water and reuse wastewater from difficult sources like textile, food, refineries and mines, to name a few. We're especially interested in high-recovery desalination and ZLD technologies.
And finally, we're working on a cloud-based intelligent data collection, analysis and optimization platform. Once completed, it will bring the latest IoT and AI technologies into desalination and wastewater reuse applications. We believe this is the next big thing in our industry.