Water Purification System Designed to Fit in a Suitcase now Upgraded with a Graphene Cartridge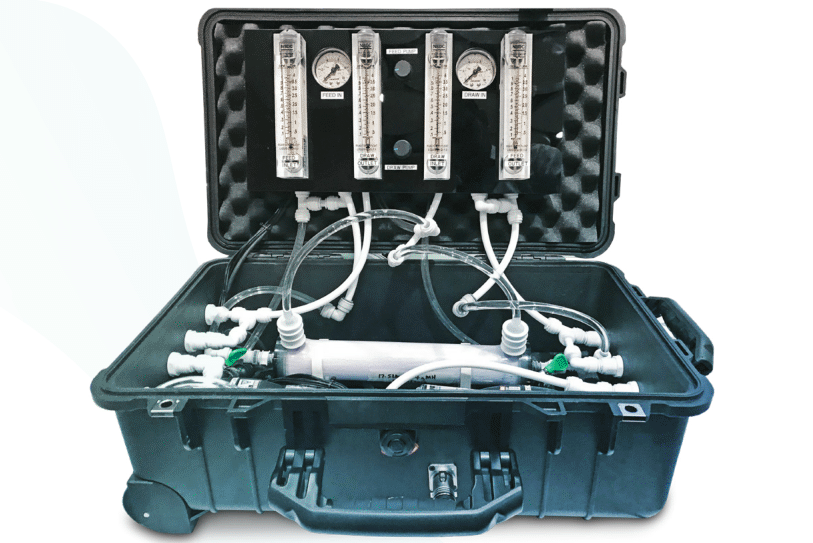 A water filtration membrane made of ceramic, and a water purification system the size of a suitcase. Liquinex's innovative water treatment solutions are capturing the attention of international companies – thanks to events like IPI's TechInnovation.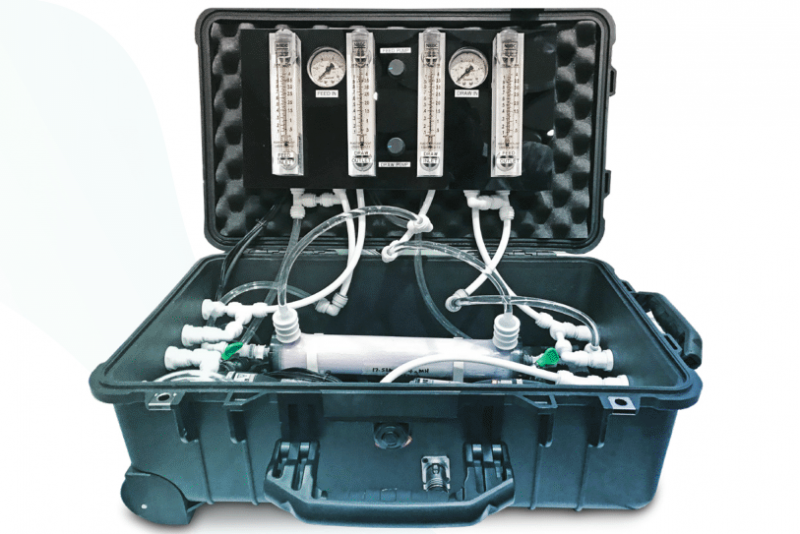 Solar-powered water purification system that fits in a suitcase by Liquinex

Most industrial factories produce some form of waste-water that has to be treated before being discharged into the sewers.
This is where Liquinex, a homegrown water treatment and recycling company, steps in to treat the industrial wastewater that typically contains dangerous and corrosive constituents like zinc – a regulated heavy metal.
What is unique about its treatment solution is the use of a ceramic filter . It is more durable and can withstand acid and high temperature.
The ceramic filter is as hard as stone, but porous and hydrophilic, and able to filter water thoroughly.
This is different from conventional wastewater treatments that use polymeric membranes and bacteria that eat away the harmful constituents. Such processes may be susceptible to damage and cannot withstand the corrosive nature of industrial wastewater.
"Industrial wastewater is an entirely different animal, and traditional water treatment may not be sufficient," said Bashir Ahmad , chief executive of Liquinex. The company also has another innovative product – a suitcase-sized water purification system that is solar operated and small enough to be portable.
It is used mainly for humanitarian purposes, offering remote, rural areas hit by natural disasters, access to clean water. During such crises, people tend to take water from the ground that may be contaminated with heavy metals, like arsenic, lead and iron.
The suitcase's water filtration is able to get rid of these heavy contaminants.
"This was used by the Red Cross and other humanitarian aid agencies in areas hit by floods last year, such as Laos and Kerala, India. It was also used by a local aid agency in disaster relief in Sulawesi, Indonesia during the 2018 earthquake," shared Bashir.
Liquinex is not alone on its mission to treat water.
In 2017, it participated in IPI's TechInnovation, a technology brokerage event to showcase technological solutions to a diverse range of industries and explore collaboration through open innovation.
There, it met Grafoid, a graphene research, development and investment company from Canada.
At first glance, graphene may seem irrelevant to water treatment. After all, it is traditionally used in batteries to increase its efficiency at a fraction of the cost.
But Bashir believed graphene could also be useful for water treatment. "It has great potential for elimination of bacteria and other contaminants," he explained. It was a perfect match between Grafoid and Liquinex.
"They found us and liked that we can use their solutions for water treatment. They wanted to diversify to water treatment too," he said.
"We clicked with them and they especially liked the suitcase. They had a soft spot for humanitarian solutions."
Today, Liquinex's water purification suitcase is supplemented with a cartridge from Grafoid that removes heavy metals like arsenic and lead found in groundwater.
Other companies that matched with Liquinex through IPI's TechInnovation include Sweden's LightLab and Denmark's Aquaporin .
LightLab's technology uses ultraviolet light rays to remove bacteria and viruses in water, while Aquaporin's solution is able to purify saltwater.
"Through the partnerships, I have sold more of our suitcase water purification systems. It's more business for us, and has also helped to expose us to bigger industries," noted Bashir.