Groundwater Arsenic Contamination in the Ganga River Basin - A Future Health Danger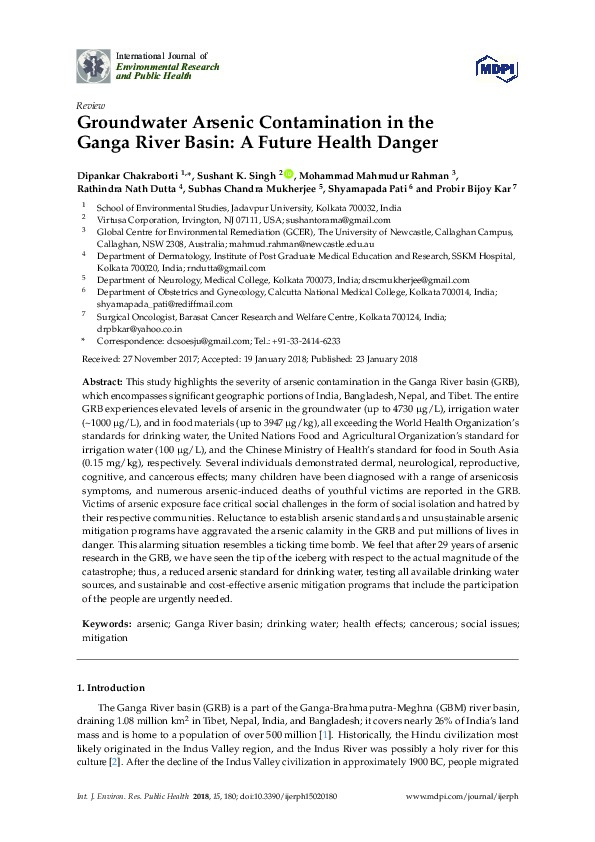 Groundwater Arsenic Contamination in the Ganga River Basin: A Future Health Danger
Dipankar Chakraborti, Sushant K. Singh, Mohammad Mahmudur Rahman, Rathindra Nath Dutta, Subhas Chandra Mukherjee, Shyamapada Pati and Probir Bijoy Kar
Abstract
This study highlights the severity of arsenic contamination in the Ganga River basin (GRB), which encompasses significant geographic portions of India, Bangladesh, Nepal, and Tibet. The entire GRB experiences elevated levels of arsenic in the groundwater (up to 4730 µg/L), irrigation water (~1000 µg/L), and in food materials (up to 3947 µg/kg), all exceeding the World Health Organization's standards for drinking water, the United Nations Food and Agricultural Organization's standard for irrigation water (100 µg/L), and the Chinese Ministry of Health's standard for food in South Asia (0.15 mg/kg), respectively.
Several individuals demonstrated dermal, neurological, reproductive, cognitive, and cancerous effects; many children have been diagnosed with a range of arsenicosis symptoms, and numerous arsenic-induced deaths of youthful victims are reported in the GRB. Victims of arsenic exposure face critical social challenges in the form of social isolation and hatred by their respective communities.
Reluctance to establish arsenic standards and unsustainable arsenic mitigation programs have aggravated the arsenic calamity in the GRB and put millions of lives in danger. This alarming situation resembles a ticking time bomb. We feel that after 29 years of arsenic research in the GRB, we have seen the tip of the iceberg with respect to the actual magnitude of the catastrophe; thus, a reduced arsenic standard for drinking water, testing all available drinking water sources, and sustainable and cost-effective arsenic mitigation programs that include the participation of the people are urgently needed.
Keywords : arsenic; Ganga River basin; drinking water; health effects; cancerous; social issues; mitigation
Int. J. Environ. Res. Public Health 2018 , 15 (2), 180; https://doi.org/10.3390/ijerph15020180
Chakraborti, D.; Singh, S.K.; Rahman, M.M.; Dutta, R.N.; Mukherjee, S.C.; Pati, S.; Kar, P.B. Groundwater Arsenic Contamination in the Ganga River Basin: A Future Health Danger. Int. J. Environ. Res. Public Health 2018 , 15 , 180.
Source: MDPI