How Researchers are Using Two Online Tools to Fight Lake Erie Algal Blooms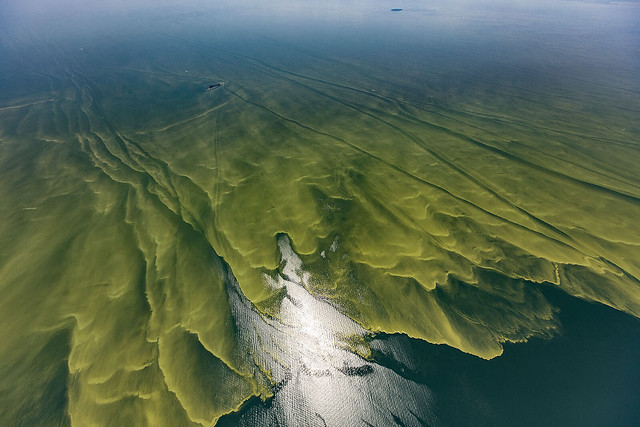 Two recent news covering the Lake Erie situation caught our eye this week.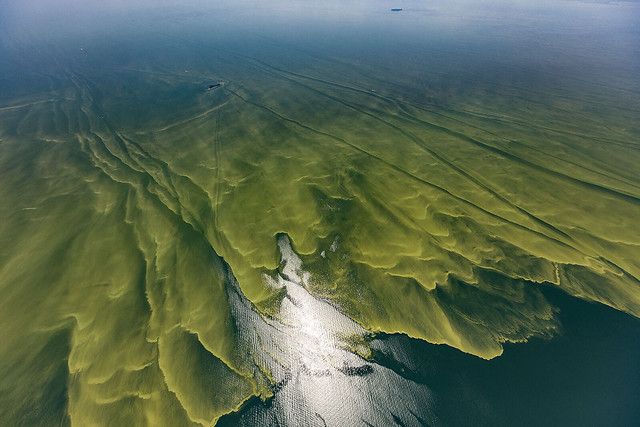 True color photo images of Lake Erie harmful algal blooms on August 14, 2017 (Photo Credit: Aerial Associates Photography, Inc. by Zachary Haslick; Photo Source: NOAA Great Lakes Environmental Research Laboratory on Flickr)
In one of her latest articles, Kate Wells of Michigan Radio talks to Ed Verhamme , a project engineer at LimnoTech in Ann Arbor.
Together with his colleagues, Verhamme launched an "all-out assault" on monitoring the bloom which should determine if efforts to reduce pollution are working. The tool is available on NOAA Great Lakes Environmental Research Laboratory's website under the name Experimental Lake Erie Harmful Algal Bloom (HAB) Tracker.
Read more about this project on Michigan Radio.
In other news, we have learned that the study pinpoints sources of nutrient runoff into Lake Erie. Dan Smith of 13 ABC News reported about the new findings on harmful nutrients that are getting into the lake and contributing to the algal bloom. In order to fight this problem, the city of Toledo and Lucas County Commissioners launched the "Nutrient Source Inventory" program that aims to narrow down the largest contributors to nutrient runoff into Lake Erie. Two years later, nearly 6 million acres have been fully mapped and modeled and you can see the result the Nutrient Source Inventory mapping tool page.
Learn more about this news on 13 ABC News.
---
Read more about Lake Erie on The Water Network:
Scientists Advance New Technology to Protect Drinking Water from Lake Erie Algal Toxins
Tech Competition Seeks Solutions to Resolve Environmental Issues on Lake Erie
The Lake Erie Bill of Rights Explained: "This Lake Now Has Legal Rights, Just Like You" (Video)